Convert emails into profiles, pairing these addresses with their corresponding Twitter usernames, and identify them as an audience.
This email integration is very useful if you have a lot of email contacts, but don't necessarily have their Twitter profile. It's ideal to quickly and easily generate more opportunities from your first party data.
This integration is brought to you by Audiense and our partner FullContact, where you will be asked to fill in a Typeform, follow our privacy policy, and provide the email file which will be hashed/deleted thereafter.
To request this email matching service, please follow these steps:
1. Select Add contacts source from the Audiences section of the top menu bar.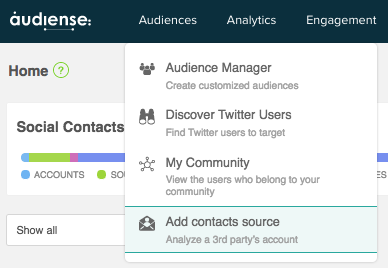 2. Select Convert your emails into a Twitter audience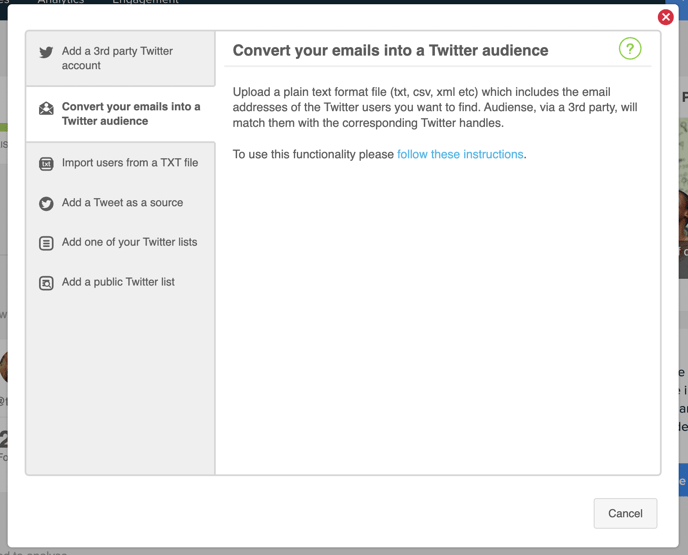 3. Complete the Typeform request and follow the instructions to agree to the FullContact privacy agreement.
4. Audiense Solutions team will get in touch within 24 hrs to confirm the process and timeline - usually this email conversion timeline is within 48–72 hours.
5. Once the email matches are ready, our team will create an audience report in your Audiense Insights dashboard, and confirm this is ready to access.
Please note:
A match rate of 8–10 % is typical. If you upload 50,000 emails you may get as few as 2500 users returned as user matches.
Once you have used all the email matches available in your plan (i.e. 5000), you will be charged for each additional match. This is a one-time charge which is not included in your monthly subscription. Details included in our submission form and available via our Solutions team.
Please note: Email integration is not available for users with a free Trial subscription.