Audiense uses Kred as a measure of the social influence of Twitter users. Use this information to discover and engage with influential users of interest to you, and see the evolution of your own influence to confirm your marketing strategy is having a positive effect. You can also use the ideas in this post inversely to find non-influential users to stop following to clean up your community.
As Kred explain:
"Influence is the ability to inspire action. It is scored on a 1000 point scale. We measure Influence by assessing how frequently you are Retweeted, replied, mentioned and followed on Twitter."
"Outreach reflects generosity in engaging with others and helping them spread their message. Since we believe that the capacity of generosity is infinite, your Outreach score is cumulative and always increases. We measure Outreach on Twitter by your Retweets, replies and mentions of others."
On the dashboard you can see the Kred score widget which shows influence and outreach. Click evolution to expand the widget and display the chart.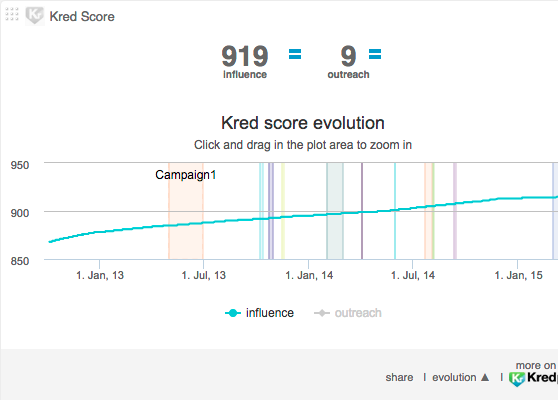 On the community wall, each user card has the Kred score under the relationship icon, which shows the influence (green) and outreach (blue) of this user.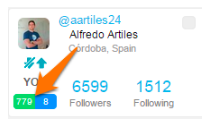 Select influence from the order by drop-up menu on the community bottom bar to order the user cards in ascending or descending order of influence.
Filter a community using the influence filter on the search/filter sidebar to visualise, for example, only those with an influence score of more than 800.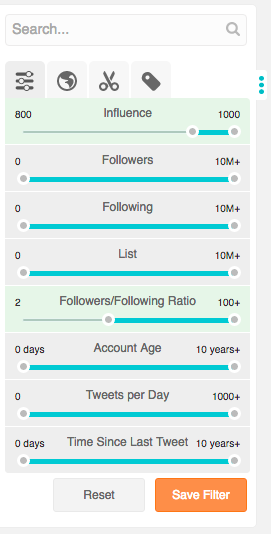 Another measure of influence is the number of lists that the user appears in. Use the handles on the list slider to filter for users in a specific number of lists.
You can also use the followers/following ratio (aka follow ratio) on the search/filter sidebar (see the image above). This is a numeric value which indicates the degree of influence or popularity of a user. The higher the ratio, the more influential the user is and the more value they are to you. It is calculated by comparing the number of followers a user has with the number of people they are following, for example:
1000 followers / 500 following = high ratio of 2 which means this user is influential and of high value.
1000 followers / 5000 following = low ratio of 0.2 which means this user is not influential and of low value.
Try to improve your own follow ratio to increase your influence by periodically cleaning up your community. You can do this by reducing the number of people you follow, e.g. unfollow inactive users and those of low value to you, or you can increase the number of people who follow you which is more difficult to achieve and requires work at creating engaging content to attract those users you can benefit from.
To clean up your community and unfollow, use the view (People I follow) and sort by (Tweets per Day) as an example (click on the left arrow to sort by lowest first).

Use any of the other influence and activity filters on the search/filter sidebar to further refine an audience to your taste.
Notes
Due to technical reasons beyond our control the Kred score may not update with the frequency of other Audiense data. If in doubt and have any questions you can contact help@audiense.com