This article explains how you can access the feedback portal when you are using Audiense, so we can action your requests.
To access the Feedback portal, you must first be logged into your Audiense account. This allows us to keep track of your request, and to inform you when a feature that you have requested or upvoted has been released.
Once in your dashboard, open the resource centre by clicking on the lightbulb icon in the bottom left of your screen, and select 'Share Product Feedback'. If you have pop-up blockers enabled, the resource centre might not show; please include dashboard.audiense.com as a safe site so that you can continue.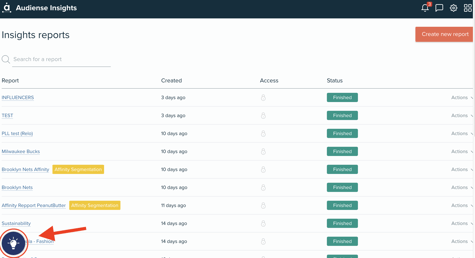 From here, you can then fill in your feedback and submit. Or select 'open in portal' to view this area and others, in more detail.
Opening the portal shall take you to the main dashboard.
Submit feedback and requests
Select 'Make a suggestion' in the portal dashboard. This will allow you to outline your request, what you're trying to achieve, your current workaround, add any files, and submit.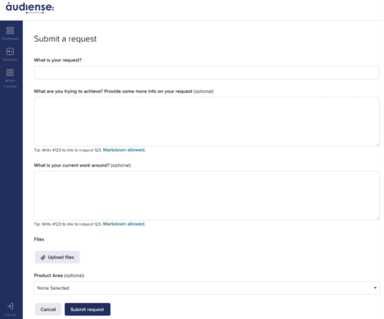 Vote on upcoming feature releases
From the portal dashboard, you will see the 'Suggested by Others' area.
Here, you can view the requests from other users, and you can select 'I want this' with the thumbs up icon, or 'I'm not interested' with the zzz icon. If you vote on more than one request, you will be given the option to prioritize them using the sliders.
You can see the status of the request in the far right column. This could be 'awaiting feedback', 'planned', or 'building'.
By clicking on any request, you can also add to the discussion, and build on the ideas of another user. You can also 'subscribe to this' to be emailed notifications each time someone else adds to the discussion.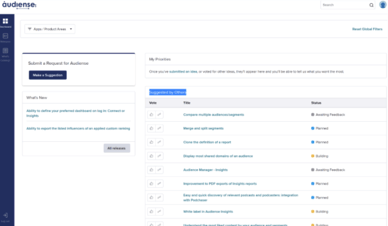 You can view requests that have become available and released in the product by using the navigation panel on the left to switch to the Releases page.

View our Product Roadmap
In the navigation panel on the left of the portal, select 'What's Coming'. This is an easy view of our roadmap: what we plan to build, and what we are currently building, testing, and working to implement.
Similar to the releases area, you can also upvote requests that you're interested in, and once they are active in the platform, we can notify you.