Convert Emails into Profiles by importing your email contacts into Audiense and then automatically pairing these addresses with their corresponding Twitter usernames.
Email integration is very useful if you have a lot of email contacts but don't necessarily have these contacts in your Twitter community. It's ideal to quickly and easily generate more opportunities from your existing email contacts.
1. Select Add contacts source from the Audiences section of the top menu bar.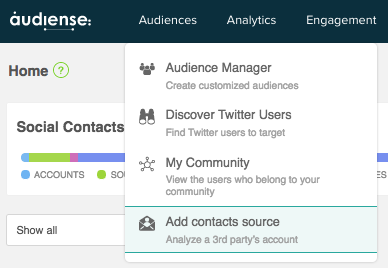 Remember, there are also other ways to add email contacts as a source.
2. The source addition panel opens and select Convert your emails into a Twitter audience
When you upload email addresses you will need to follow the instructions and agree to to the full contact agreement.
Emails file must be uploaded with MD5 hash– This is a cryptographed file for added security - Why MD5 hash?
Ensure the file is in plain text format (e.g. .txt, .html, .csv, .xml) and contains only one email address per line (select 'Treat multiple lines as separate...). We count the number of addresses not the number of rows of the file, so blank lines are ignored. Click upload a file and select the file to upload to Audiense from your computer.
(You can use https://www.miraclesalad.com/webtools/md5.php to convert an email list or any other free tool that does this).
4. OPTIONAL. You can choose to receive a daily, weekly or monthly summary email for the source from the drop-down menu.
5. You will see a message showing the number of email addresses to be uploaded and matched. Click OK to add them as a source. You only pay for the emails that Audiense successfully matches with a Twitter account, that go over your limit displayed in the dashboard.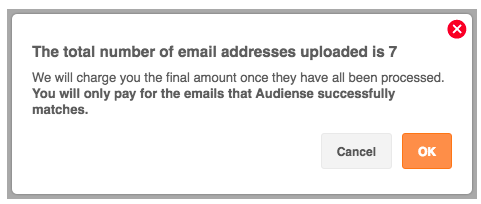 6. The new source panel will appear in the Source: Email contacts section of your homepage and while synchronising the new source panel will show that it is collecting data.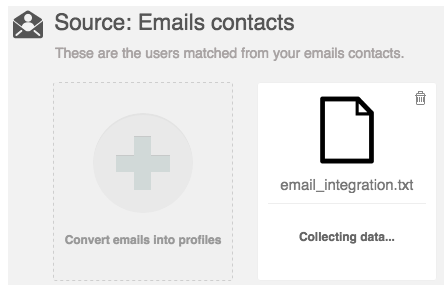 Synchronisation may take a while, but you can navigate away from the source and continue using Audiense while you wait and optionally you can receive an email notification once it is finished.
When synchronisation has finished the new source panel shows the number of members that Audiense successfully matched with their corresponding Twitter accounts, which logically does not necessarily coincide with the number of users that were initially uploaded.
7. Explore your new source. Click on the top half of the panel to access the source dashboard. Click on the bottom half of the panel to access the community wall to browse the members and carry out typical community management actions and engage with these email contacts through Twitter.
From the community view click on the username or avatar on the user card to open the user details sidebar. The email contacts tab shows enriched profile information which is only available for users you have added as a source using convert emails into profiles.
You can see even more detailed information about the users if you export the Excel spreadsheet from the dashboard.
NOTE: You will no longer be able to see this user's email address in this profile.
Enriched profile info includes some or all of the following:
Profile info

Full name
Websites – Links to websites related to the user.

Photos

Profile photos from, for example, LinkedIn, Twitter, GooglePlus, Pinterest, Foursquare.
Organisations

Details of the current and past organisations of the user with start/end dates, current status, title, etc.

Demographics

location (city and country), gender, etc.

Social profiles

Links to social profiles, e.g. LinkedIn, Twitter, GooglePlus, Pinterest, Foursquare, Facebook, Gravatar, Klout, About.me, AngelList, YouTube, LastFM, Delicious.

Digital footprint

Topics of interest to the user.
Scores, e.g. Klout score.
The maximum number of email addresses which can be uploaded is 200 000.
A match rate of 8 – 10 percent is typical. If you upload 50 000 emails you may get as few as 2500 users returned as user matches.
Once you have used all the email matches available in your plan, you will be charged for each additional match. This is a one-time charge which is not included in your monthly subscription.
Please note: Email integration is not available for users with a free subscription.