Chatbots are a great tool that can be used in order to greet customers and welcome them to their brand, in addition to providing valuable services at ease. There are 4 types of chatbots that are on offer at Audiense:
Note: Chatbots are only available for users with a Twitter Marketing plan or an Audience Insights plan. Users with a Free plan will not be able to use Chatbots.
Opt-in chatbots
The most basic types of chatbots, opt-in chatbots allow Twitter accounts to have a way for people to opt-in for further communications. After Twitter decided to ban DM Campaigns, getting user consent to receive mass communications from a Twitter handle is a mandatory step. Once users have opted-in, Twitter account owners can broadcast DMs at scale. (You don't need to be a follower to opt-in to this!)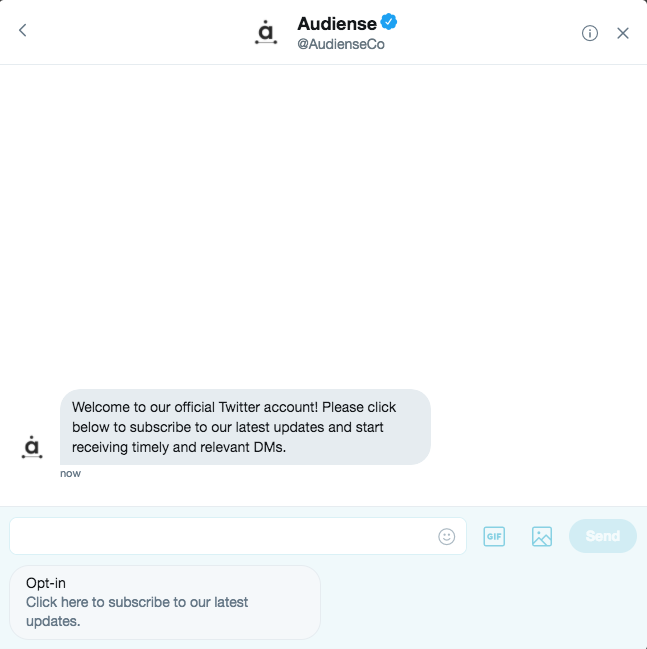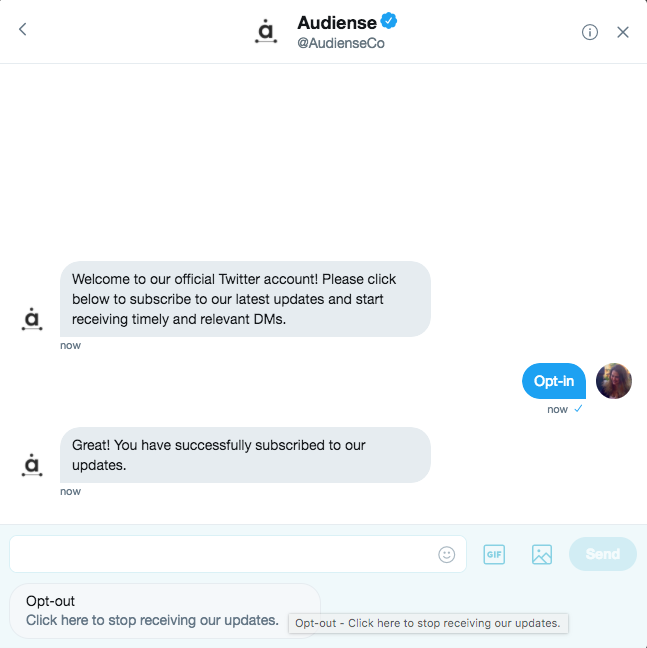 After you've clicked 'Opt-in', not only will you receive a personal welcome message that provides a more personalised interaction with your company, it also allows users to know what to expect from this chatbot service. You are then able to send out updates and marketing content from your business. This means consumers are up to date on any relevant information and won't miss out on any important news, events or products you have to offer.
Content & News delivery chatbots
The next step on the Twitter chatbots evolution are "News delivery chatbots". These chatbots are specially designed for organisations that deliver constant updates to a wide audience. By creating a series of topics of interests, users can subscribe to receive updates or news based on their interests. These topics support both manual delivery of DM broadcasts and RSS, for advanced automated delivery. These chatbots are specially suited for news organisations (such as magazines or newspapers) but can also be adopted by other organisations that have a constant flow of "categorised" updates.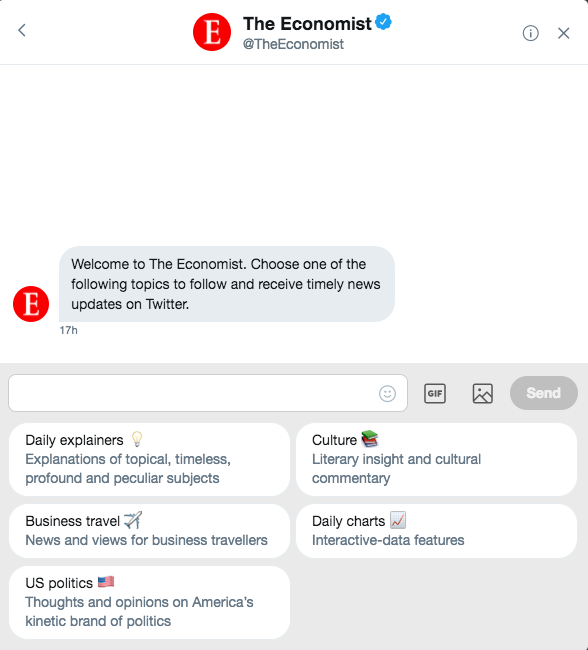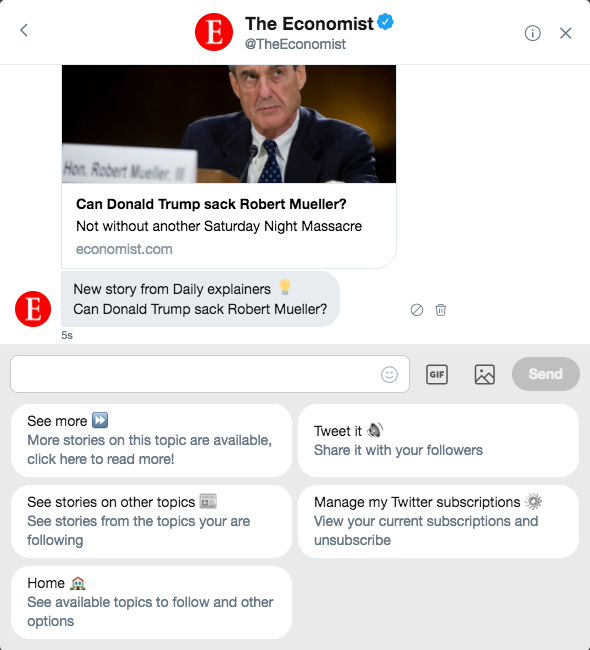 Content and News delivery chatbots are a great way to constantly keep up to date with any news that's relevant to your followers topics of interest, so they never miss out. The Economist is a great example of this Content chatbot. When you click on 'Message' on their page, an automated message pops up where it tells you to select on the box you're most interested in and want to receive more information about. By sending personal messages, topics they're interested in, you build a more personal relationship with your customers.
By clicking on 'Daily explainers', for example, you're then sent a relevant link about the topic to start you off. You will then receive any new articles uploaded by The Economist, on their website, for the topic you've selected. Additionally, this service provides a way to encourage customers to tweet, or retweet, about an interesting or important information which can be good publicity for the company, as well as providing an easy link to their website.
Q&A chatbots
Q&A chatbots allow having conversational experiences that companies create to answer common questions from customers. This alleviates the workload of support teams and reduces the time to get an answer from customers, which translates in an increase of customer satisfaction.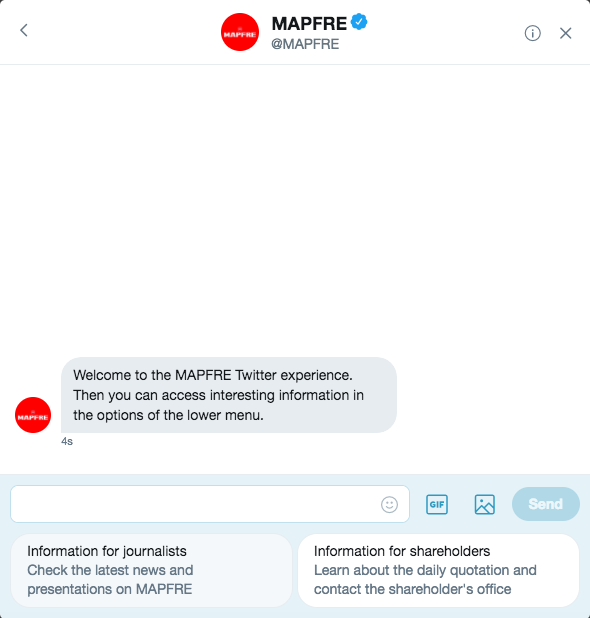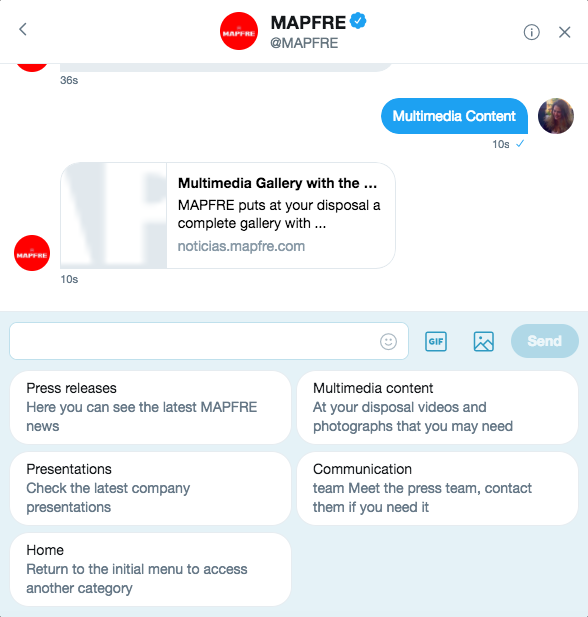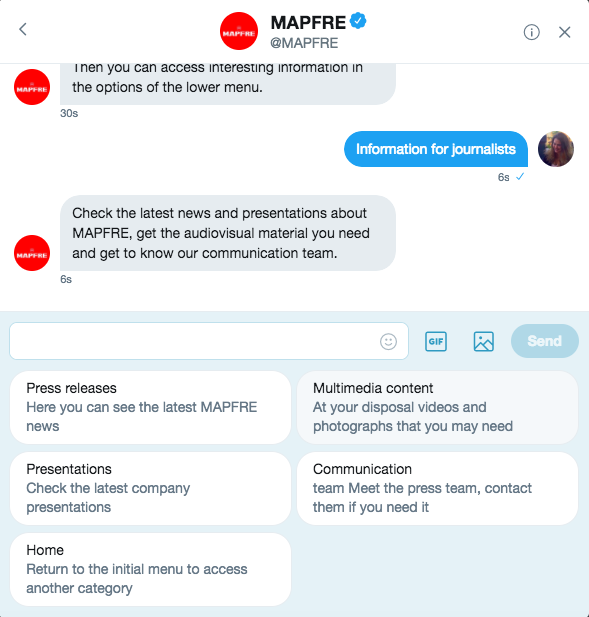 Q&A chatbots are great for giving your company the opportunity to demonstrate your commitment to service and information by using a straightforward and easy system. They can be an efficient way for twitter users to find their way through your different products, services and queries.
Custom chatbots
For customers that want to define advanced conversational chatbots, with an unlimited amount of interactions and topics, we offer "Custom chatbots", which allow to define an unlimited number of interactions. These chatbots are commonly used for building Q&A chatbots and news delivery at the same time.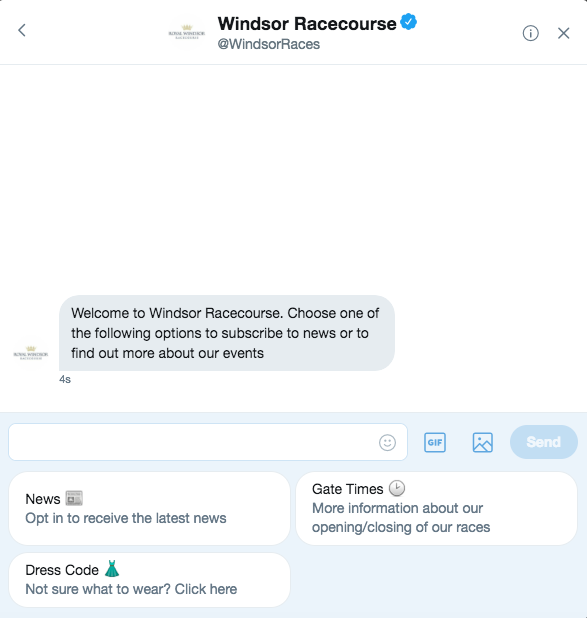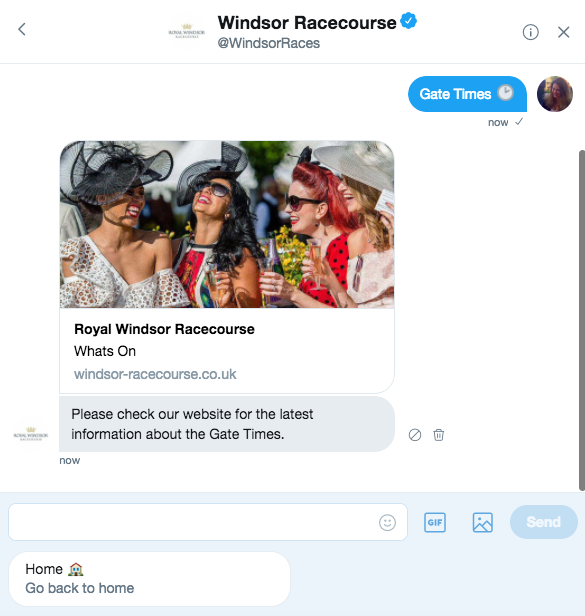 After receiving the standard opt-in message, you then are able to select the topic you're interested in. Custom chatbots are great at building relationships with consumers. If you would like to design your own communication framework based on your needs, the Custom chatbots can include different topics and interactions that will help the user achieve the most out of this experience.