When you click on the Influencers & brands tab on your Insights reports you will see the option to sort the accounts your audience is interested in by affinity, and also by uniqueness.
What are Affinity and Uniqueness?
Affinity:
Affinity is a proprietary metric that intents to help our customers to understand the interest that an audience has towards a person, a brand or an organisation. This shows the influencers that are most followed.
How is it calculated?
Audiense infers the affinity of the audience according to the interactions (tweets, posts, follows, likes, etc.) of audience members on social media. One of the most important inputs to calculate the affinity is the follower graph because it allows us to know more about how people are interconnected and therefore help us better understand their affinities.
When you are ordering by affinity, you will be able to see the highest interests in that audience (most followed). For example, people like Barack Obama will be usual suspects when you are ordering by this; 34% of this audience has an affinity for Barack Obama, meanwhile 16.4% of the global audience has an affinity for this account as well (see image).
In order to find more relevant accounts for your audience when compared to a baseline, you may want to order them by uniqueness.
Please note: if the affinity % does not add up to 100 when looking at the affinity for a 'followers of' audience definition, this will be due to not taking into account any protected or suspended accounts within the audience.
Uniqueness:
For uniqueness, we use a proprietary index in order to determine how relevant and unique a person or a brand is for the members of the audience. This index takes into account how "mainstream" the accounts are for the public and penalizes accounts that are influential for the whole population versus those that are especially relevant for the audience we are analysing. This index allows us to highlight brands or people that are unique for a concrete target audience or segment.
The index is scored with values ranging from 0 to 100, being 100 the maximum unique affinity.
For example, when analysing a segment of vegans, when we compare to the general @PeanutButterCo baseline (the demo report in your account!), we see that even the audience has a great affinity with vegan snacks and brands, the baseline has a higher affinity with So Delicious than a large account such as VegNews or the Vegan Society. Our index will penalize the results that are mainstream, helping us surface the real influencers for the target audience (in this case, VegNews and Daiya Foods)."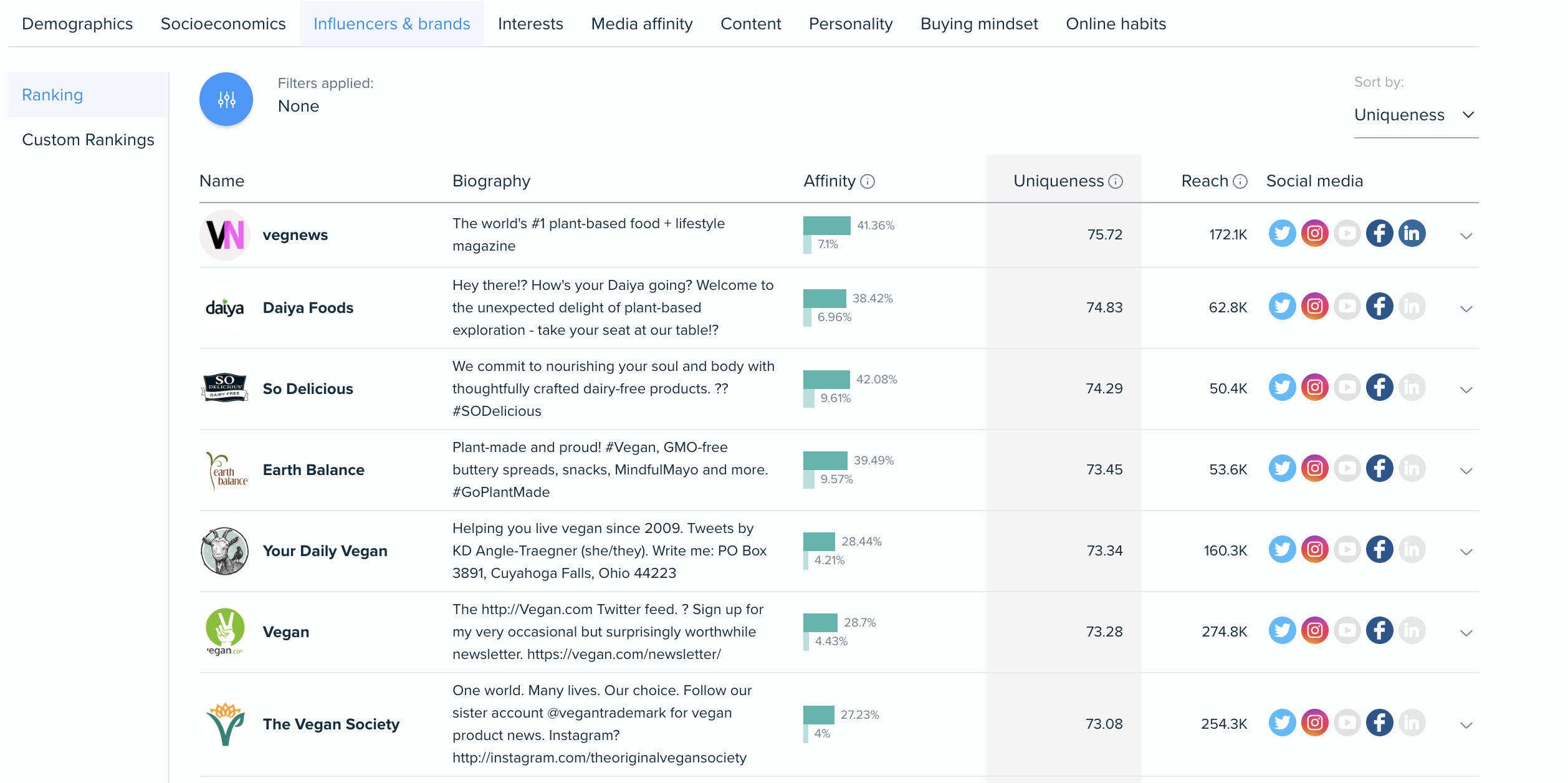 Please note:
"Very Low/Low/High/Very High Uniqueness are all relative metrics that are calculated against the benchmark/baseline.
Each of them provides different calculations, meaning when you select very high uniqueness, it's a different calculation than when you select uniqueness, and that's why you will see different numbers.
When you filter by Uniqueness, then it's the uniqueness score you are seeing (Not the Very Low/Low/High/Very High) which can be confusing.
We are aware there is confusion around this and when they should be used, so we are planning to solve it."
Our advice is to use Affinity when you want to know the influencers that are followed the most (the audience has the most affinity with them) or Uniqueness when you want to know what is most relevant to an audience when comparing them to the baseline you have selected (i.e., influencers that are unique to a Segment when comparing to the full audience in the baseline).