Glossary of terms:
Explicit - clearly stated, so there is no room for confusion or questions.
Implicit – implied or suggested, but not clearly stated.
Inference – a conclusion made based on both information/evidence and reasoning.
Extrapolation - In broad terms, extrapolation can be likened to deduction or inference, which involves drawing conclusions about unknown factors from known information.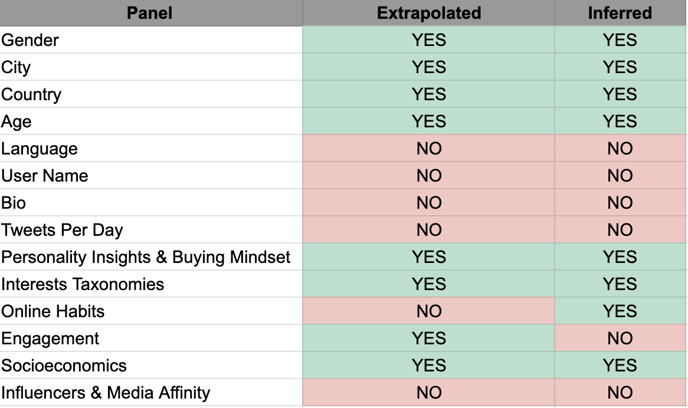 Enrichment Table: Explicit vs Inferred
| | | |
| --- | --- | --- |
| Enrichment name (All based on Twitter Data) | Description | Explicit/Inferred |
| Activity | balance of activity of the account in terms of how much original content (Tweets), conversation (mentions) and sharing (Retweets) they have published | Explicit |
| Automation | balance of activity of the account in terms of how many tweets are published manually or automatically | Explicit |
| Client App | most used Twitter client app | Explicit |
| Days | what days of the week the user is most active | Explicit |
| Devices | most used devices | Explicit |
| Engagement | amplification ratio (Retweets received/total Tweets posted) and applause (favorites received/total Tweets posted) | Explicit |
| Hours | at what time the user is most active | Explicit |
| Languages | most used languages | Explicit |
| Operating systems | most used operating systems | Explicit |
| Platforms | most used platforms | Explicit |
| admin3_code | other administration levels, sometimes the postcode | Inferred/Modeled |
| admin4_code | other administration levels | Inferred/Modeled |
| city | | Inferred/Modeled |
| country | Country name | Inferred/Modeled |
| country_code | ISO-3166 2-letter country code, 2 characters | Inferred/Modeled |
| precision | precision level, i.e. country, state, province or city | Inferred/Modeled |
| province | Province name. 2nd level in the country, administrative level | Inferred/Modeled |
| province_code | Province code. 2nd level in the country, administrative level | Inferred/Modeled |
| state | State name. 1st level in the country administrative level | Inferred/Modeled |
| state_code | State code. 1st level in the country administrative level | Inferred/Modeled |
| Interests | IAB interests taxonomy. 5 levels of categorization | Inferred/Modeled |
| Gender | | Inferred/Modeled |
| Entity type | | Inferred/Modeled |
| Affinities Influencer/Brands | Following % | Explicit |
| User ID | Twitter user ID | Explicit |
| Twitter Handle | to be translated and consistency check | Explicit |
| Name | | Explicit |
| Location | to be updated in-app / twitter bio location | Explicit |
| | | |
| User Bio | | Explicit |
| Language | | Explicit |
| Time zone | | Explicit |
| Has avatar | | Explicit |
| URL | | Explicit |
| Has URL | | Explicit |
| Is protected | | Explicit |
| Is verified | | Explicit |
| Time since last tweet | | Explicit |
| Followers | | Explicit |
| Following | | Explicit |
| Tweets count | | Explicit |
| Listed count | | Explicit |
| Followers ratio | | Explicit |
| Tweets per day | | Explicit |
| Affinity | | Explicit |
| Age | IBM Watson age recognition + Internal Heuristics | Inferred/Modeled |
| Personality Insights (Below) | IBM Watson personality insights | Inferred/Modeled |
| Consumer Preferences (Below) | IBM Watson personality insights | Inferred/Modeled |