Our Influencers & brands tab makes it easier and quicker to find influencers for your selected audience.

For each profile you can find the following information:
Name – Name of the user
Biography – Twitter bio
Affinity – The percentage of affinity the audience and the baseline have with the user
Uniqueness - How relevant and unique a person or a brand is for the members of the audience in comparison to the chosen baseline
Reach – Number of followers the account has on Twitter
Social media – Presence in other social channels. Click on the icons to go to their social profiles

Refine the view by using different filters available:
Country - filter by country
Biography - search by bio keywords
Category – select from a range of categories, such a Food & drink, Finance, Politics or Magazines
Influence - Micro or Macro influencers (Micro < 100.000 followers < Macro)
Content creators: Filter by influencers/brands on YouTube, Instagram, LinkedIn, Facebook, Medium, Pinterest, TikTok, Twitch, Snapchat (Please note the filter is only available for reports created after 16th Sept 2020)
Type of account – this can be brands or individuals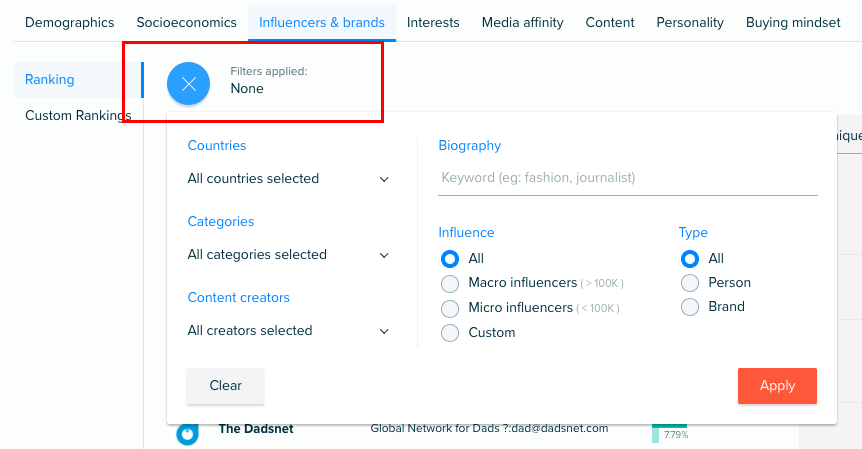 You can also order the profiles by uniqueness or order by affinity (default setting).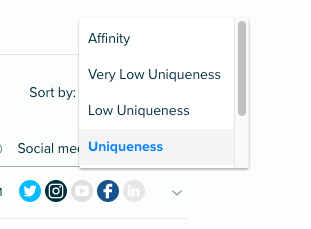 If you select the order by uniqueness the accounts are ordered based on our uniqueness algorithm in comparison to the baseline.
If you select to order by affinity the accounts are ordered based on the percentage of the audience which follows these accounts.
Click on the bottom right-hand corner of the list to download it into Excel: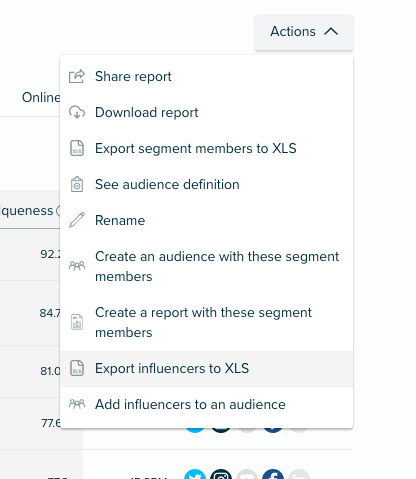 You can also create Custom Rankings: