As you create your reports, you will experience that some reports will take about one or two hours to be available, whilst others will be ready for you to view within 5 minutes. Except for generation speed, there are no differences in the types of insights the reports provide, the information provided in the Insights report remains the same to all of them. However, there are 2 main factors that will determine your report generation time: report audience size and report creation method.
What types of reports generate within 5 minutes?
You will experience a much shorter generation time on those reports that meet the following criteria:
Audience size is smaller than 20000 members
The audience for the report has been defined via one of the following methods:

File upload: Custom txt, Meltwater or Sysomos format
Conversations: audiences based on their recent use of hashtags, keywords and URLs
Meltwater search: available to Meltwater and Audiense customers
The audience has been created in Audiense Connect
You are creating a report with the members of a segment from another report
If you are a Pulsar and Audiense customer and requested the report from Pulsar
Your report is based on one or more accounts' followers
How can I know a report will only take a few minutes to generate?
When you launch your report, you will be informed that your report will be available very shortly: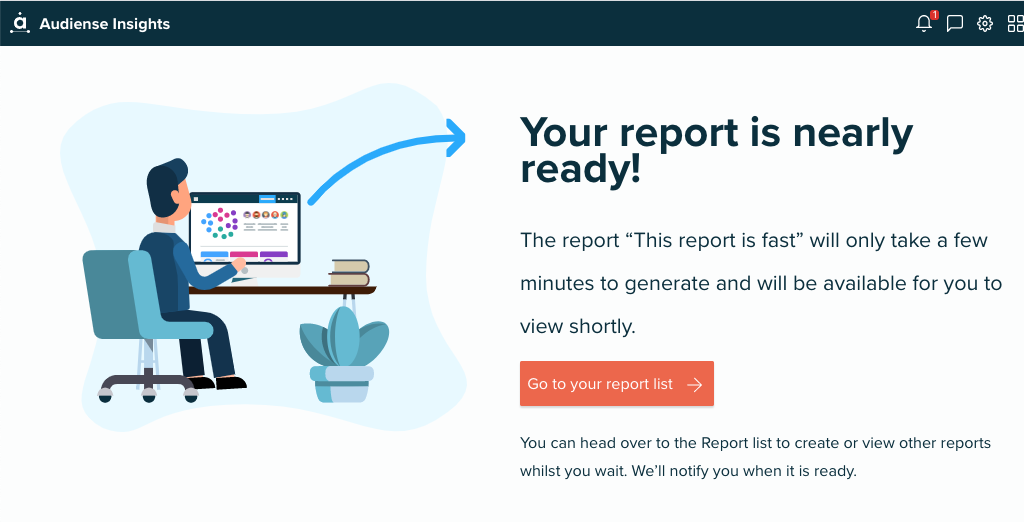 You'll also notice a lightning icon right by your report Generating status:
If you notice any of these signs, we'd recommend you to wait around, as you will be able to explore all of the information about your audience in just about 5 minutes!