There are busy moments when it is difficult to follow or to reply in real-time, due to the number of people interacting with you. Use Latest Interactions to keep track of all your interactions, i.e. the Tweets of those who interacted with you, and those you interacted with in some way.
View all your latest interactions
1. Select Latest Interactions from the Analytics drop-down menu on the top menu bar.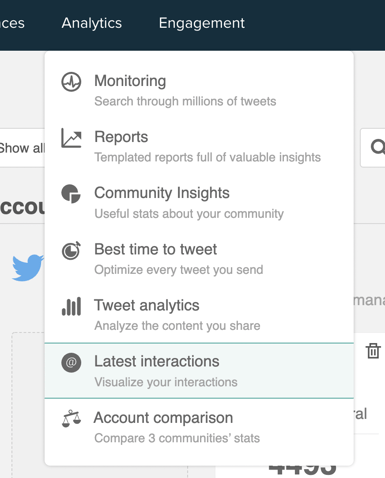 2. The Latest Interactions sidebar opens on the left of your screen.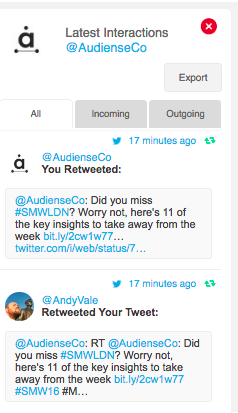 Here you can see all your recent interactions. The sidebar has three tabs:
All – All interactions, both incoming and outgoing.
Incoming – Other users interactions with your Tweets, e.g. likes, Retweets, mentions.
Outgoing – Your interactions, e.g. your Tweets, likes, Retweets.
View your latest interactions with one specific user
1. Click the blue @ in the bottom right of the user card.
2. The Latest Interactions sidebar opens on the left of your screen.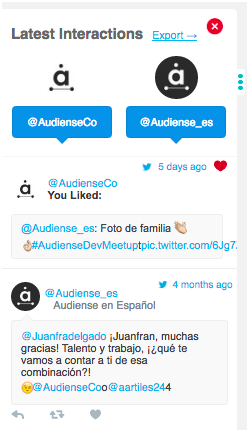 When viewing either the all interactions or the individual user sidebar you can:
Click the @username of the Tweet to go to the Twitter account of that specific user.
Mouseover the Tweet to reply, Retweet or like those Tweets that mention you.
Click export to export your interactions to an excel file.
Notes
Only those interactions you have had since you authenticated your account in Audiense can be shown.
Your interactions are updated when your authenticated account in Audiense is synchronised. You can force the sync using the request synchronisation button on the breadcrumb bar.
Another way to keep track of your latest interactions is using the My influencers and I influence dashboard widgets, which are synchronised every 24 hours. My Influencers are the people who have influenced you in some way, either because you've mentioned, Retweeted or liked them. The users who have mentioned, Retweeted or liked you appear in the I Influence widget.