The search/filter sidebar is always active when you are browsing users on the community wall and it allows you to search for and filter specific users of that community.
Click the three vertical dots on the right of the sidebar to toggle visibility and increase the space on the wall to see more user cards.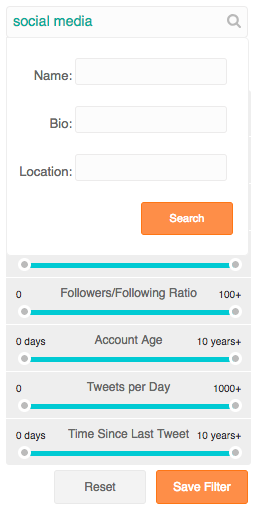 Click in the search box to open a drop-down menu containing three ways to search. You can use one or multiple search criteria to search for users by:
Use advanced syntax to create much more precise and powerful search queries.
You can also filter users using the options on the four tabs:

Tab 1. Activity filters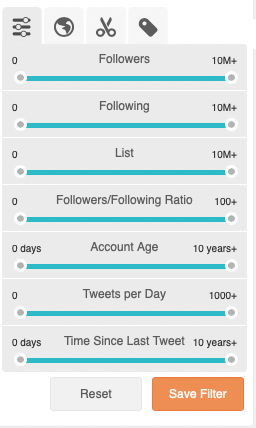 Use the handles on the sliders to select the required range.
Followers
Following
Lists – The number of list appearances; not the number of lists created.
Followers/following ratio – the follow ratio is a good measure of influence.
Account age
Tweets per day
Time since last Tweet
Tab 2. Demographic filters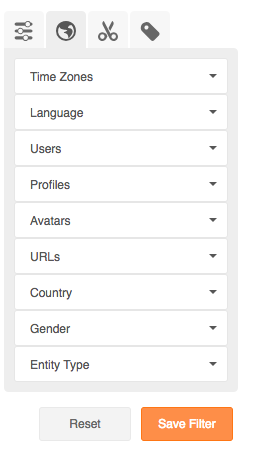 Use the drop-down menus to select the required filter.
Time zone – As specified in the Twitter profile settings of the user.
Languages *
Users

All
Only verified users
Only non-verified users

Profiles

All
Only public profiles
Only protected profiles

Avatars

All
Only profiles with customised avatar
Only profiles with default avatar

URLs

All
Only profiles with URL
Only profiles with no URL

Country – Use the filter to reduce the number of options the menu shows.
Gender
Entity type

All
Person
Company/Entity
Any search criteria, filter settings, or tags (see my tags tab below), you have applied appear in the breadcrumb bar.
Click the x next to each query to remove that specific criteria or tag.
Click reset to remove all search criteria, filter settings or tags you have applied.
Click save filter to save any search criteria or filter settings as a custom filter for future use.
You can also save a filter using the all criteria drop-up menu on the community bottom bar.
It is also possible to create a custom widget based on the saved filter.
Tab 3. My custom filters
Access and apply all your saved filters from the my custom filters tab.
Select a filter to see all the users who comply with the filter on the community wall.
Click x to the right of the filter name to remove that filter.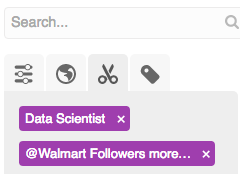 Tab 4. My Tags
Create tags to add to users to categorise and organise a community.
Select a tag from the my tags tab and display all the users that have been assigned that tag.
Use the filter to reduce the number of tags the tab shows.
To add an existing tag to a user just drag and drop it onto their user card.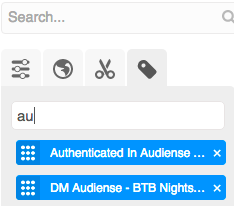 Notes
Languages which are supported are: All, Arabic, Basque, Catalan, Czech, Danish, Dutch, English, Farsi, Filipino, Finnish, French, German, Greek, Hebrew, Hindi, Hungarian, Indonesian, Italian, Japanese, Korean, Malay, Norwegian, Polish, Portuguese, Russian, Simplified Chinese, Spanish, Swedish, Thai, Traditional Chinese, Turkish, Urdu, Ukrainian, Romanian, Vietnamese, Bengali, Abkhazian, Afrikaans, Amharic, Armenian, Aymara, Bashkir, Belarusian, Bihari, Bosnian, Bulgarian, Corsican, Dhivehi, Dzongkha, Esperanto, Faroese, Frisian, Ganda, Greenlandic, Gujarati, Hausa, Icelandic, Interlingua, Inuktitut, Irish, Kannada, Kazakh, Kinyarwanda, Kurdish, Laothian, Latvian, Lithuanian, Macedonian, Malay, Maltese, Maori, Moldavian, Nauru, Norwegian, Occitan, Oromo, Quechua, Sango, Scots Gaelic, Serbo Croatian, Shona, Sinhalese, Slovak, Somali, Sundanese, Tamil, Telugu, Tibetan, Tonga, Tswana, Turkmen, Uighur, Welsh, Xhosa, Yoruba, Zulu, Afar, Albanian, Assamese, Azerbaijani, Bislama, Breton, Burmese, Chinese, Croatian, Estonian, Fijian, Galician, Georgian, Guarani, Haitian, Interlingue, Inupiak, Javanese, Kashmiri, Khmer, Kyrgyz, Latin, Lingala, Luxembourgish, Malagasy, Malayalam, Manx, Marathi, Mongolian, Nepali, Norwegian, Oriya, Pashto, Punjabi, Rhaeto romance, Rundi, Samoan, Sanskrit, Serbian, Sesotho, Sindhi, Siswant, Slovenian, Swahili, Tajik, Tatar, Tigrinya, Tsonga, Twi, Uzbek, Volapuk, Wolof, Yiddish, Zhuang.