Adding a text file as a source is useful to help manage attendees of an event, e.g. a congress, meeting, workshop, webinar survey.
After synchronisation add the users to a public list to encourage interaction and generate buzz around the event, use Monitoring to see who is Tweeting about the event, etc.
1. Create a text file listing those Twitter users you want to add as a source, e.g. your event attendees.
There are two options:
Option A – Write one user name per line, either beginning with or without the @ symbol.
It's possible to copy and paste an Excel column, for example from an XLS file you previously exported from Audiense, to the text file. To do this select and copy the users from the screen_name column of the file.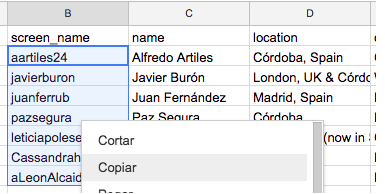 Then paste to a text file, in TextEdit in Mac use the option 'Make plain text'.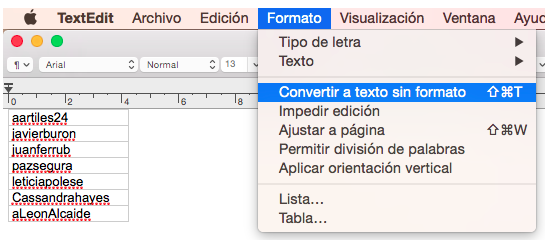 Option B – Copy a text which includes user names beginning with the @ symbol. For example, importing the following text file would extract the five screen_names mentioned in the text and create the audience accordingly.

2. Save the text file to your computer and then import back into Audiense to create a new audience.

3. Select Text File from the target drop-down menu on the top menu bar.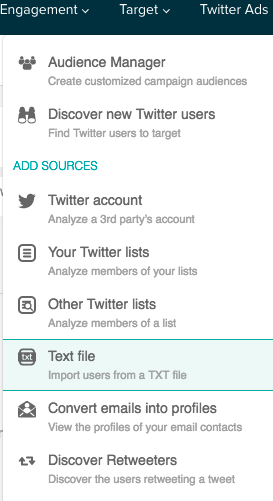 Remember there are also other ways to add files as a source.
4. The source addition panel opens.
Click upload a file and use the file explorer to search for and select the text file from your computer.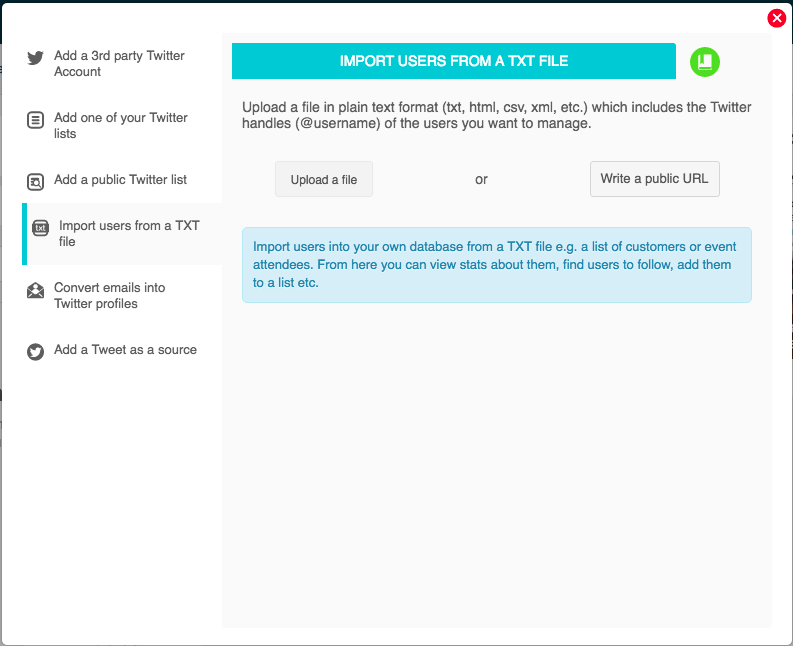 Or click write a public URL to choose a file from a public website, e.g. https://mysite.com/users.txt then click add.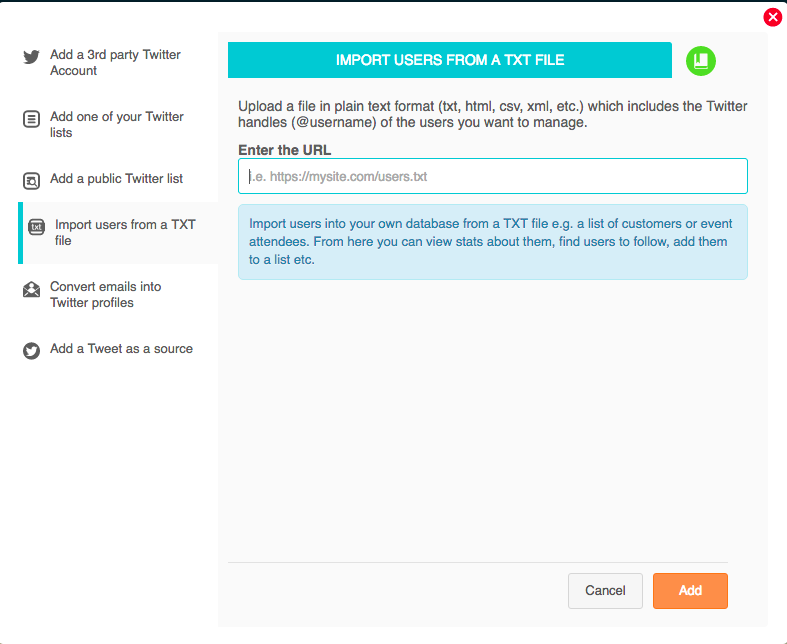 5. When the file has finished synchronising the new source panel will appear in the Source: Imported users section of your homepage.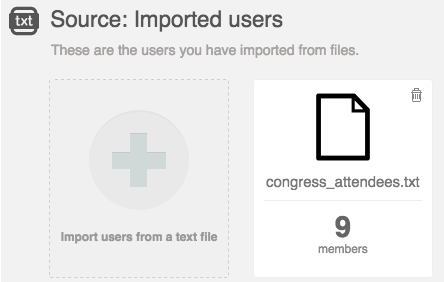 Synchronisation may take a while but you can navigate away from the source and continue using Audiense while you wait and optionally you can receive an email notification once it is finished.
Explore your new source
Click on the top half of the panel to access the source dashboard and browse members of individual widgets.
Click on the bottom half of the panel to access the community wall to browse all members and carry out typical community management actions.
Remember you can also access any source via the source drop-down menu on the breadcrumb bar.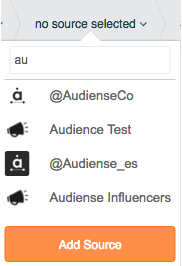 You can use the view drop-down menu on the breadcrumb bar to see for example, Community Insights about the source, or access some of the analytics and engagement tools available.