Synchronisation is important as it keeps your data up to date. By default the data you see is based on the latest synchronisation which happens automatically every 24 hours. You can also manually request a synchronisation.
See when the last synchronisation occurred on the top of the dashboard when you click into the account, e.g. 'Last updated: 1 day ago'.

After each sync any new information, compared with the previous sync, appears on the dashboard allowing you to compare data and see any changes, for example how many new followers you have gained.

Modify the period
The default data you see is based on the latest synchronisation but you can use the period menu to view information based on previous syncs.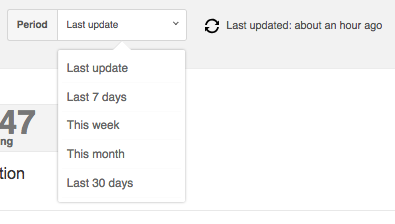 Adjust the period to see data based on syncs of longer time periods, e.g. this week or month, to see changes over that period of time. You may have been off work for a week and want to see the changes that occurred when you couldn't access new data on a daily basis or you may want to see changes to evaluate the success of a particular campaign over that period.
Manual synchronisation
If you are viewing an owned account you have the option to manually refresh the information shown on the widgets and panels by clicking the request synchronisation icon on the right of the breadcrumb bar, for example:

For example, you might want to see immediately how many followers you've lost or gained since your previous sync.
Depending on the size of the account, synchronisation may take quite a while.
It is also possible to request a synchronisation for any lists you have added as a source.
If you are viewing any other source, e.g. a third-party account you have added to analyse, then the request synchronisation icon is not available, for example:

You will have to wait until Audiense updates for you. You can estimate the validity of the on-screen data by checking the time when it was last updated. If the last update was 7 minutes ago you know the data is relatively current; if the last update was 1 day ago, you know that the data is not necessarily 100 percent accurate. However, you also know that if you wait a short period of time Audiense will automatically synchronise the account and the data will be updated.
Notes
Audiense cannot guarantee consistent delivery time of any email daily summary reports you receive after a sync as this depends on our mail service provider.