In Audiense accounts and sources are very important. An account is your own, or a client's, authenticated Twitter account that you manage.
As well as your own accounts you can add additional sources to explore, analyse and engage with in the same way you do your own account.
Accounts and sources which can be managed (added and removed) are:
Accounts
Your own Twitter accounts
Sources
Third-party Twitter accounts
Audiences
Email contacts
Imported users – Users imported from a text file.
Discover Retweeters – Retweeters of a specific Tweet.
Twitter lists – Users belonging to private or public lists.
Add accounts/sources
Your ability to add more accounts/sources depends on the size of your plan and how many social contacts the account/source you want to add has. To see how many social contacts you have used and how they are distributed, take a look at the social contacts management panel on the homepage. You may need to upgrade in order to add the account/source you are interested in.
There are various ways to add the different types of accounts/sources mentioned above.
From the homepage click the default [+] panel of the relevant section.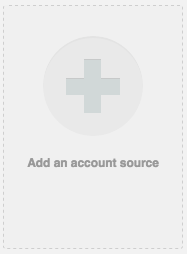 From the homepage mouseover the relevant section on the social contacts management panel and then click Add new.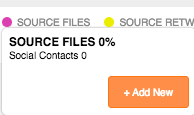 From anywhere in the platform add a source using the Audiences menu on the top menu bar.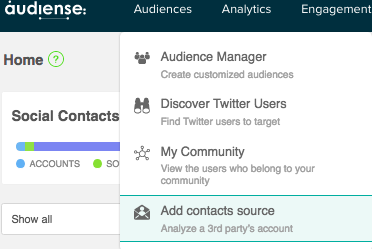 From the user card click the more drop-down menu and select add as a source.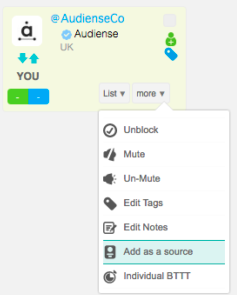 Adding an owned account
If you add an owned account using any of the above methods you will need to authenticate as follows:
1. Click either Twitter account.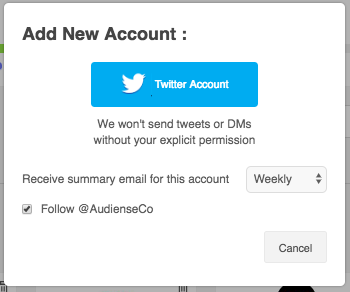 2. If you're adding a Twitter account complete your username and password, then click authorise app to establish the connection with Audiense.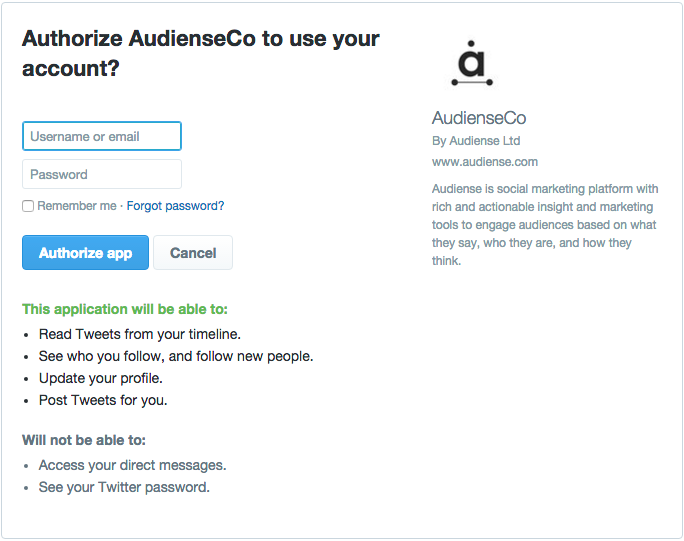 Adding a source account
If you add a source using any of the above methods then this opens the corresponding source addition panel. This is not true for Audiences which uses the Audience Manager. You can change the type of source to add by selecting a different source type from the side menu of the source addition panel.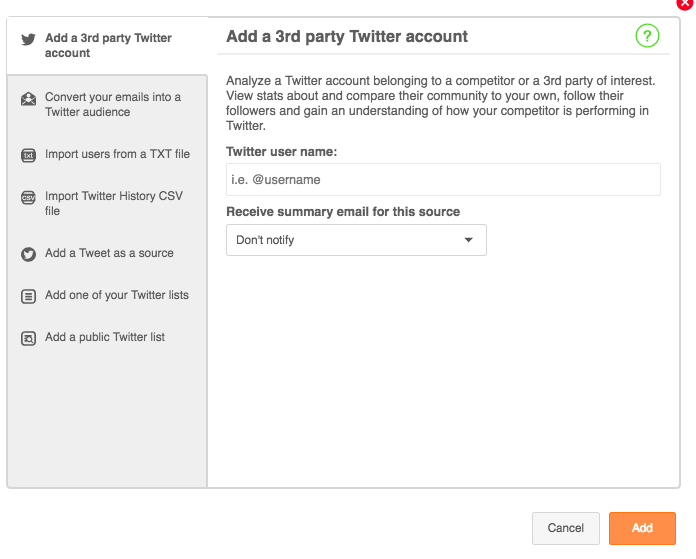 If you add the source from the user card you don't use the above source addition panel and you will see confirmationthat the source is being added.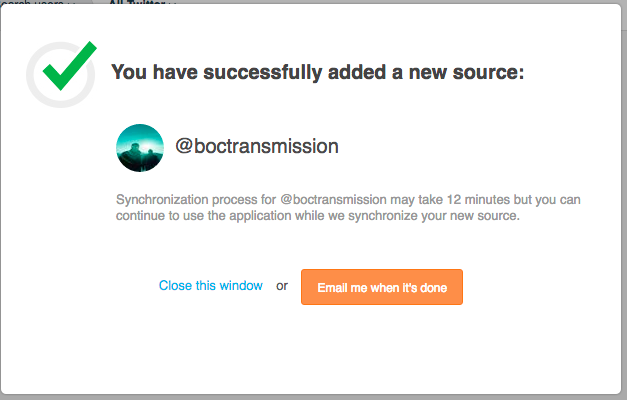 You need to wait for the new source to synchronise but you can continue using Audiense while you wait.
Remove accounts/sources
You can remove an account/source from the homepage.
Mouseover the account/source panel and click the remove bin icon in the top right.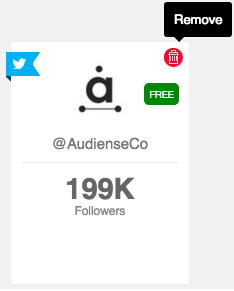 Mouseover the relevant section on the social contacts management panel and then click the remove [-] icon in the top right.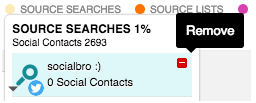 To complete the removal you need to confirm in this panel.