In this article, you will find the following:
Audiense and GWI have teamed up to provide this powerful integration, where you can now map audiences from social data to survey data, removing any previous challenges of joining the data points.
The first phase of this integration lets Audiense users quickly and easily create GWI audiences - including from full audiences or individual audience segments identified within the Audiense Insights platform. In this guide, we'll show you how to do that, as well as some examples of how you can use GWI to build on the existing insights you've already identified in Audiense.
Before we go into using the integration, let's take a look at what makes this integration unique, and its main use cases.
What makes this integration unique?
While Audiense taps into shared beliefs, interests, lifestyle choices, and affinities through social consumer segmentation, GWI can help you build a more in-depth quantitative view of your audience's behaviours, including the customer journey, to arm you with cultural insights that help you develop strategies that are more likely to drive ideal customer and brand outcomes.
This integration is also the only way in the market to integrate Social Listening platforms such as Pulsar, MeltWater, Talkwalker or Brandwatch with GWI. You can transfer audience attributes from Audiense to GWI to connect your qualitative and quantitative research.
What are the main use cases?
While you'll already have a good understanding of audience preferences from your Audiense report, GWI can ensure you build a far more in-depth view of these audiences' behaviours. Here are some examples of the kind of additional depth you can discover using GWI.
Customer Journey Analysis
Understanding how your audiences Discover, Research, Purchase, Experience and Advocate their favourite brands is of course essential to developing effective strategies for them. GWI features extensive data around these customer journey stages - including useful coverage of the expectations audiences have of favoured brands.
Persona development & enrichment: Lifestyle behaviours, values & attitudes
Building the kind of accurate audience persona needed for an effective result requires a defined picture of how that group thinks, feels and acts. GWI has a wide range of data points available to ensure you can achieve this - as well as some useful pre-defined segmentations and persona types.
Understanding the audience behind current topics and trends
GWI is constantly active and responsive when it comes to adding new data on emerging trends as part of their extensive 'Zeitgeist' dataset. This means that data is likely to be available on many of the current issues that are impacting your audiences - which in turn will ensure you can develop informed strategies which are responsive to these.
Check out this blog about blending social and survey data to identify insights, providing more details into combining these two data points, which can also be used to validate one over the other.
How do I use this integration?
Simply follow this short video or the steps below. Make sure you are logged into both platforms!
1. Choose your audience or segment and export to GWI
For those who have not yet created any audiences within Audiense Insights, you may first want to watch this Audiense walkthrough!
From within your Audiense report, you can choose to create a GWI audience from the full audience or a particular segment.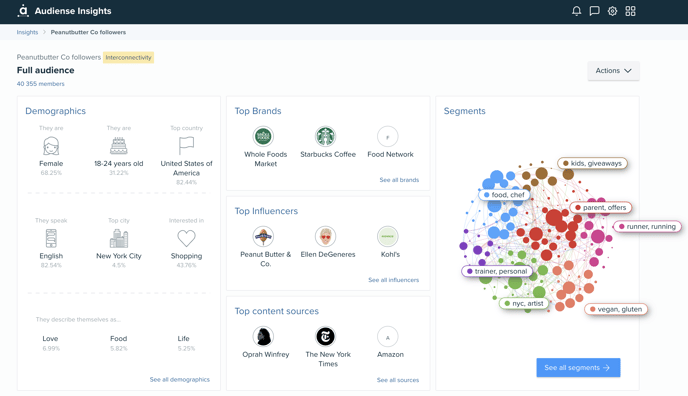 To do this, you need to visit the Audience Breakdown page (by selecting 'See all Segments' blue button, on your report summary page), and then…
For the Full Audience - click on the 'Actions' menu and select 'Create audience in GWI'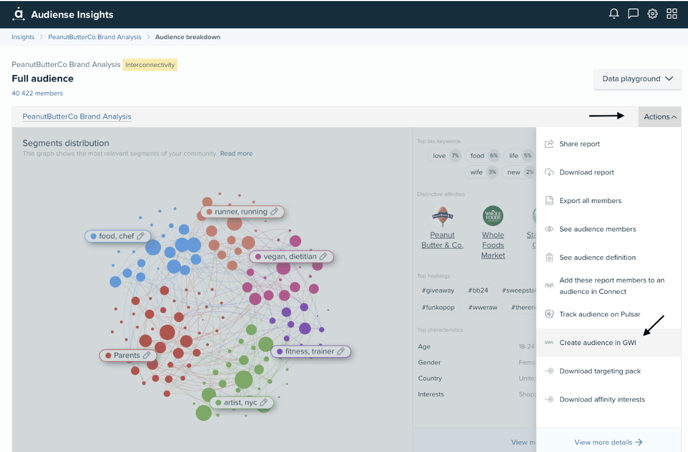 For a specific Segment (Cluster)- scroll down to find the 'Actions' menu under the 'Segment Card' and select 'Create audience in GWI'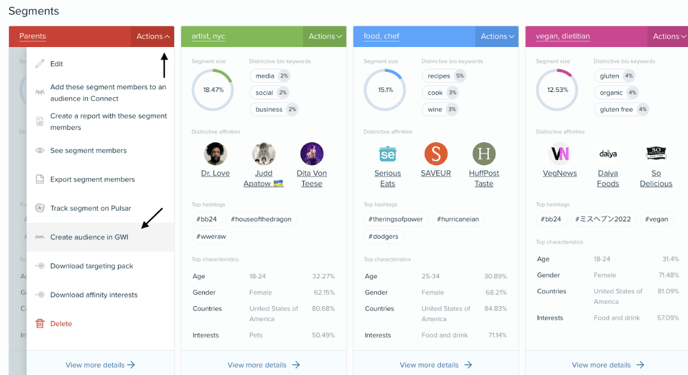 In both cases you'll see a pop-up which confirms that the audience or segment has been created and a button which will take you directly to your GWI account.
Make sure you are logged in, and click on this button.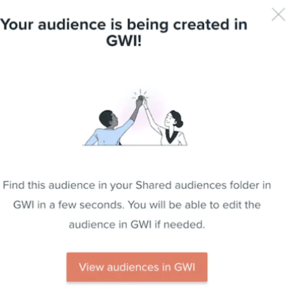 Attributes translated and sent to GWI:
Age

Gender

Country

Interests

Affinities (Brands/Influencers)
2. Find your imported audience in GWI
Once in GWI, you should be directed to the Audiences section, where you will need to click on 'Shared'. Within this section you'll find all of your audiences exported from Audiense Insights, latest at the top, and here you can view these to understand how the data points have translated to GWI.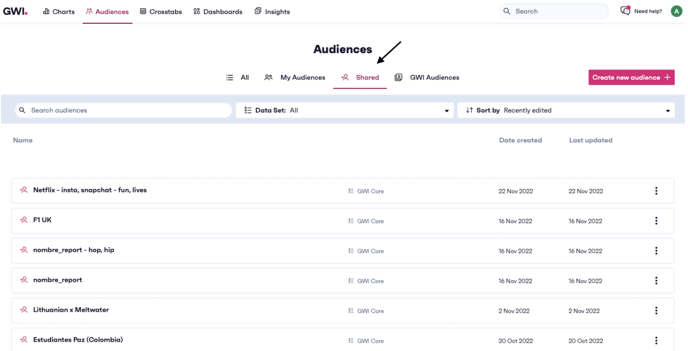 3. Edit your imported audience (if needed)
Although this integration does an accurate job of mapping your Audiense data to GWI, you may also want to refine or adjust the data - for example, to focus on a particular location or time period within GWI's quarterly waves.
To do this, select 'Save as New' within your imported audience to create a copy in your 'My Audiences' section on GWI, which you can then edit as required.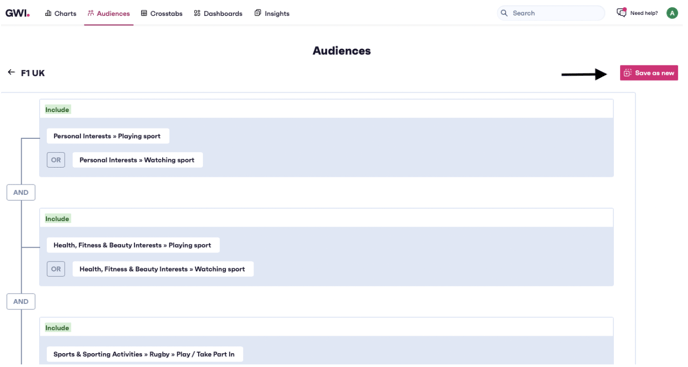 We recommend creating a new name for your audience, so it will be easier to find.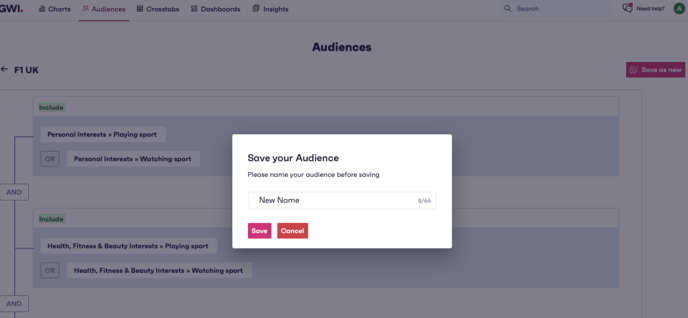 Now you can head over to 'My Audiences' to find this newly saved audience.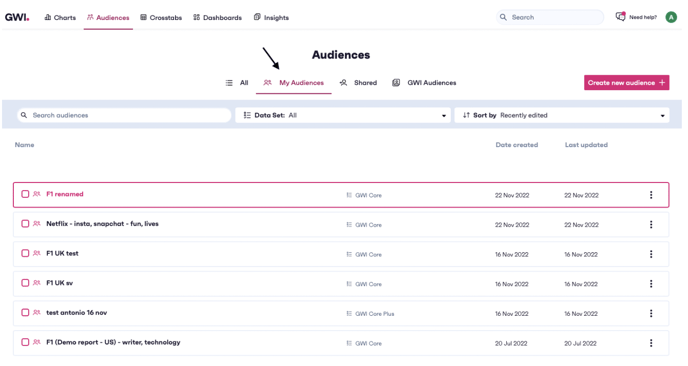 Once you click on the audience, you can edit and save.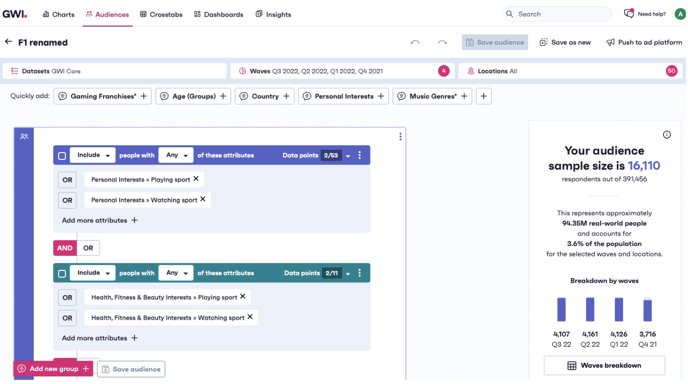 How do I request this integration?
You will need to have a subscription to both platforms to use this integrations, and make sure you have access to GWI Core Data. At the moment we are integrating into Core, but in future we will incl. Core + and further sources.
Although we have already run tests internally and through a focus group, please bear in mind this integration is at the very beginning stages, and will require users to work with it and provide feedback to our Product team (as part of a beta stage).
If you would like to embrace the integration and support us in developing it further, you can get in touch with your audiense account manager, or email opsteam@audiense.com to inquire further.
To help the GWI team to locate the correct account, we will need your:
Organisation name
Email address
GWI Org. ID - see how to find your Org ID here below!
FAQs
Does Audiense integration work with any GWI customer around the world?
Yes, our integration is with the GWI Core dataset, which is available in all countries and in all GWI Licenses by default.
Does Audiense integration work with other extended datasets GWI has like for example GWI Sports, GWI KIds or GWI USA or GWI USA Plus?
No.
Our mapping of properties does not integrate automatically with these other datasets yet (but we are working on it) however our customers still do it manually if necessary
Do you integrate with GWI CORE USA or GWI CORE UK?

If we are speaking about:
GWI Core: These are available in the UK and the US, and we do integrate with them
GWI USA: There is another dataset from GWI which today we don't integrate automatically with (but we are working on it).