The Comparison of Activity Report allows you to compare the activity of two different accounts and determine the most effective strategies for you.
Compare your activity with accounts similar to yours to improve your Twitter strategy and achieve better results. With insight into your competitors followers and who they are following you can discover new users to target, analyse their Tweeting times to improve your community engagement and determine the most active times of the day for your industry.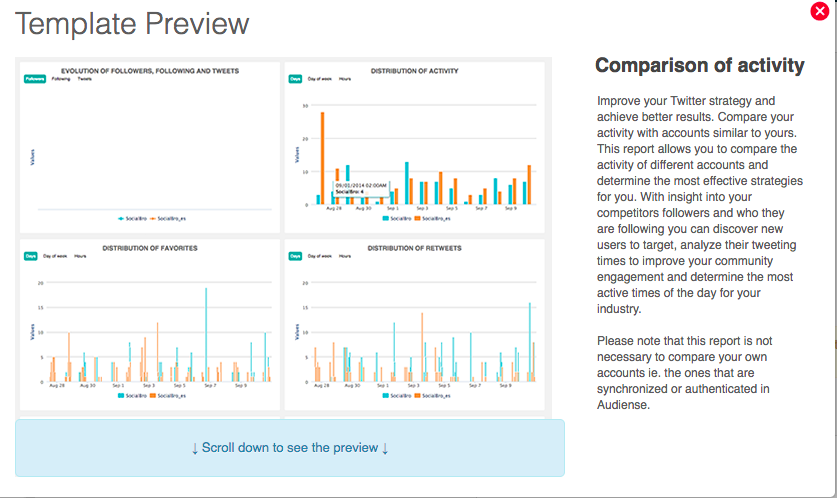 Limitations: the accounts to analyse in the report can be any two public Twitter accounts; you are not limited to your own synchronised accounts in Audiense. Protected accounts cannot be accessed by Audiense. The info shown is based on a Tweet limit not on a time period limit, i.e. if you reach the limit in one week although you have selected a period of two months the panels reflect only those Tweets of the week.
Note: This feature is only available for users with a Twitter Marketing plan or an Audience Insights plan. Users with a Free plan will not be able to see this as an available option.
Create a Comparison of Activity Report
Use the configure data for template section to specify the two accounts the report will be based on and modify the settings as required.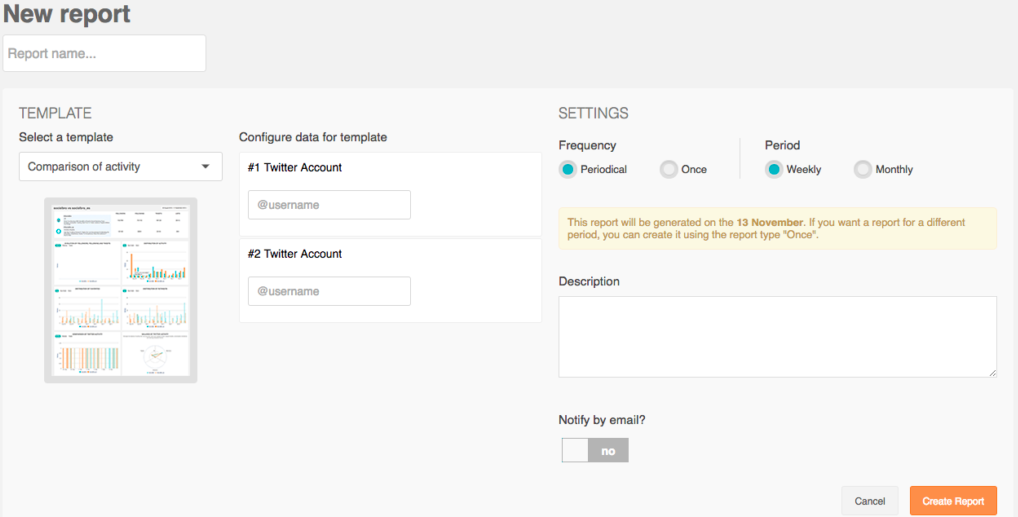 View a Comparison of Activity Report
The panels on a Comparison of Activity Report can take the format of: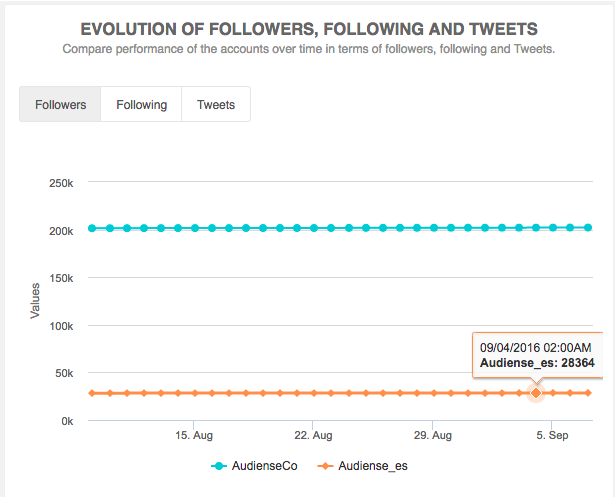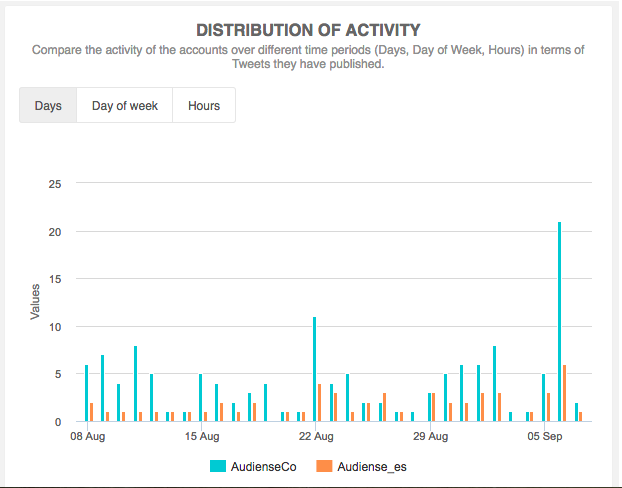 [3] Radar (spider) charts, e.g.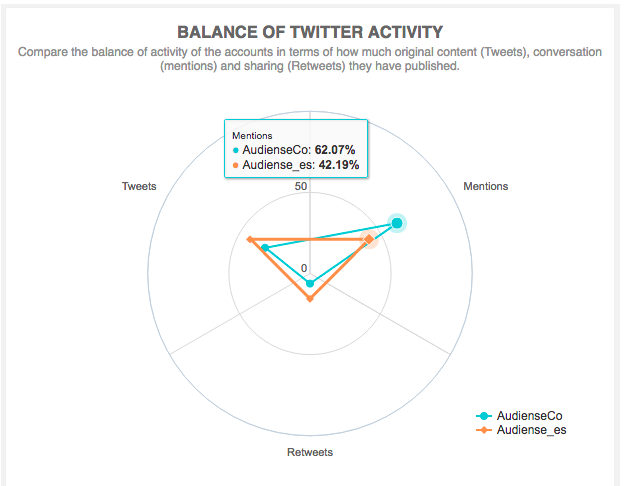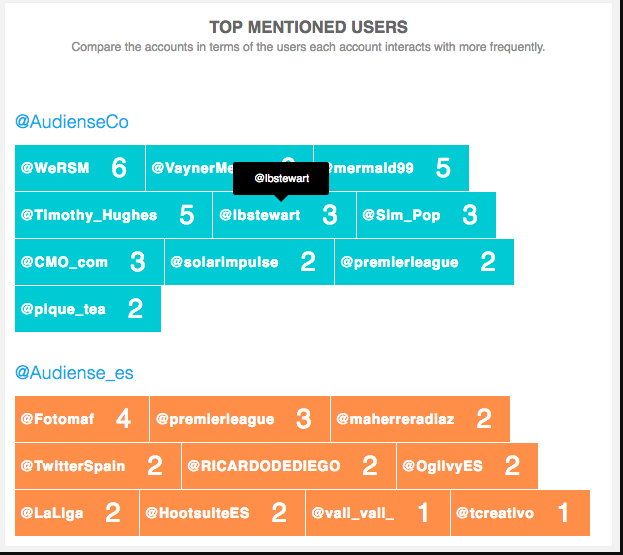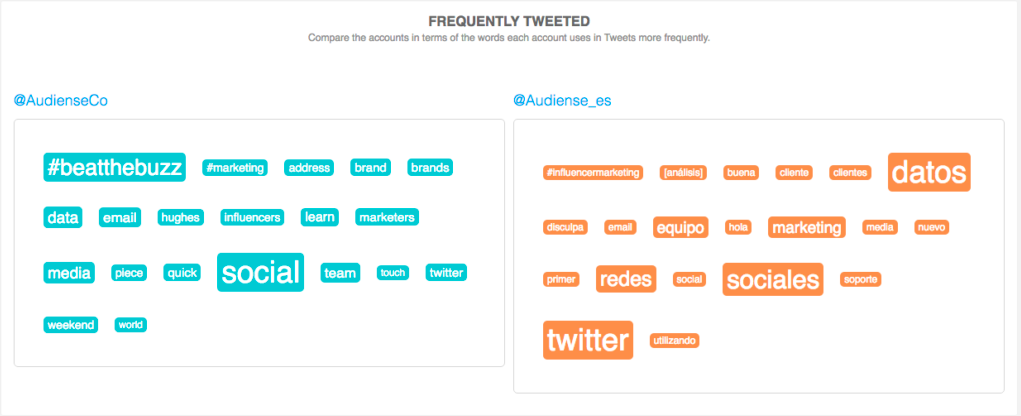 The panels on the Comparison of Activity Report, with the format in square brackets, are:
[1] Evolution of followers, following and Tweets
[2] Distribution of activity
[2] Distribution of likes received
[2] Distribution of Retweets received
[2] Comparison of Twitter activity (Tweets, Retweets, mentions (1))
[3] Balance of Twitter activity (Tweets, Retweets, mentions (1))
[2] Compare engagement with Avinash's metrics (amplification and applause)
[4] Top mentioned users
[5] Frequently Tweeted (words in Tweets)
[5] Frequently used hashtags
[6] Top Tweets
[6] Top shared links (the number of times the link has been shared is in the top right)
(1) Mentions are any Tweet that contains an @username in the body of the text but not at the start of the Tweet. Replies are any Tweet that starts with an @username.