Welcome to the Audiense Insights dashboard. You will notice a similar screen to this: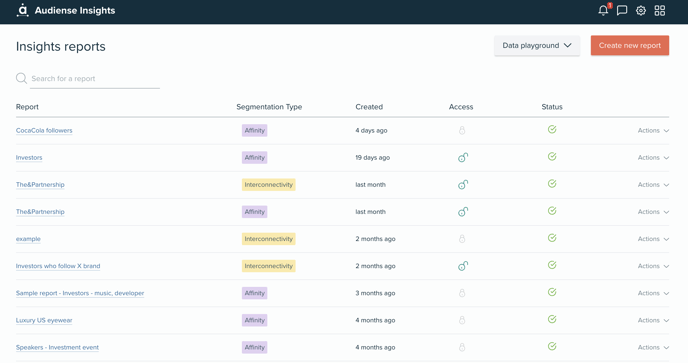 The Audiense Insights dashboard shows a list of the reports generated in a view that provides the following information and options:
Search Report - Search from your account's entire report list to find a report. Type at least 3 characters into the search functionality and it will populate a refined list of reports
Create new report (orange button) - Define the criteria to generate a new report
Report – Name of the report
Segmentation Type: Labelled as either Interconnectivity (yellow) or Affinity (purple)
Created – Date when the report was created
Access – Indicates whether the report is public or private - you can click the lock icon to publicly share your report via a public link (copy link or email)
Status – Status of the report: Generating (grey), Finished (green) or Failed (red). Please note that all dashboards have at least 3 demo reports that show a blue status tick, which can be found at the bottom of your report list.
Actions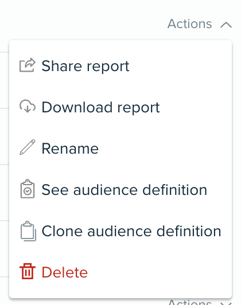 Share report - if you want to get a shareable link to your report. This will be available as read only for colleagues and other stakeholders once you share the URL (simply copy the link or select email)
Download report - if you want to download the full report or a summary as PDF or PPT, or send it to someone via email
Rename - if you want to rename a report
See audience definition - to see what criteria you used when the report was created
Clone audience definition - to create a new report using the same audience definition.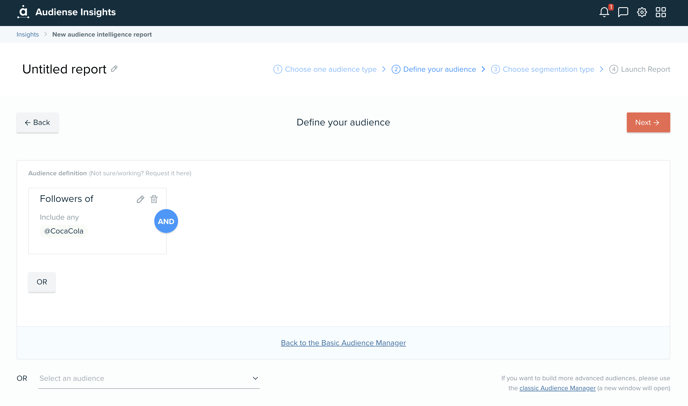 It will allow you to edit the definition, so you don't have to start from scratch if you wish to run a similar report with additional criteria, or if you simply just want to copy the same definition but run another segmentation type in a new report.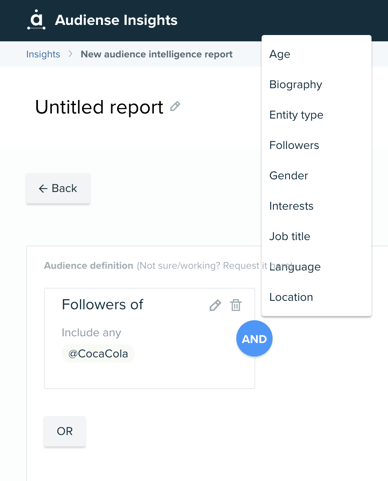 Delete – you can remove the report by clicking here
Note: Your dashboard can store up to 300 reports. If you are a user with many reports, such as a user on an unlimited plan, please be aware that if you reach this limit, you will need to delete reports to make space, and then you will be able to continue to create more reports. If you are a user with a Free plan or a Twitter Marketing plan, your dashboard can store up to 3 reports. Likewise, to make room for your monthly refresh of 3 reports, you will have to delete previous reports. If you have any questions, please get in touch via help@audiense.com.
To start creating reports, find out how and options available here