A powerful feature is to be able to add the authors of the Tweets of the Monitoring, or any customised view you have applied, to an existing or new audience. You can use this audience in a Twitter Ads or browse the users on the community wall to further refine the users.
You can add users of a Monitoring to an audience in two ways:
1. From the Monitoring dashboard
Select Monitoring from the top menu bar and click view dashboard in the panel of the Monitoring you are interested in to access its dynamic Monitoring dashboard.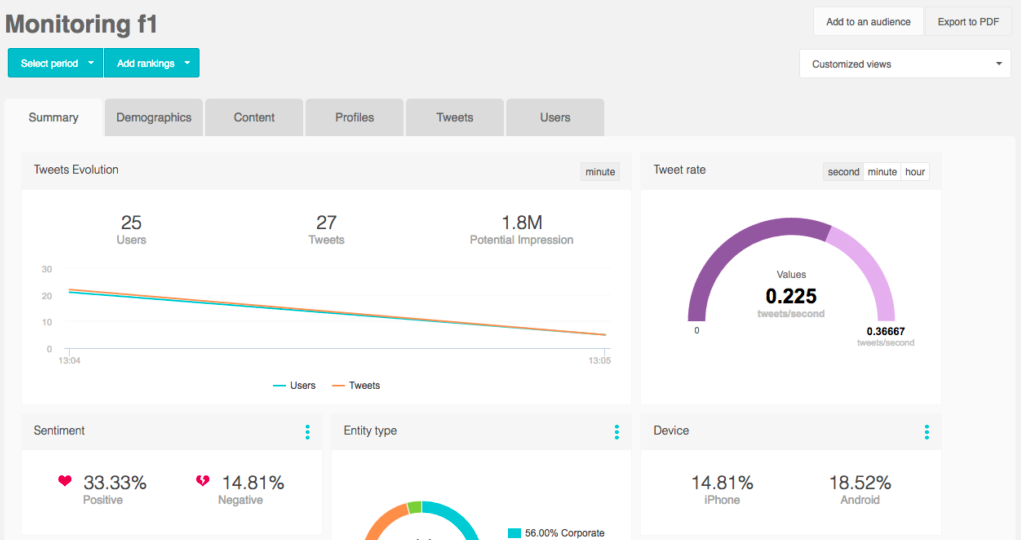 In the top right corner click add to an audience to open the audience addition panel.
Use the tabs to select whether to:
a) Add the users to an existing audience (default)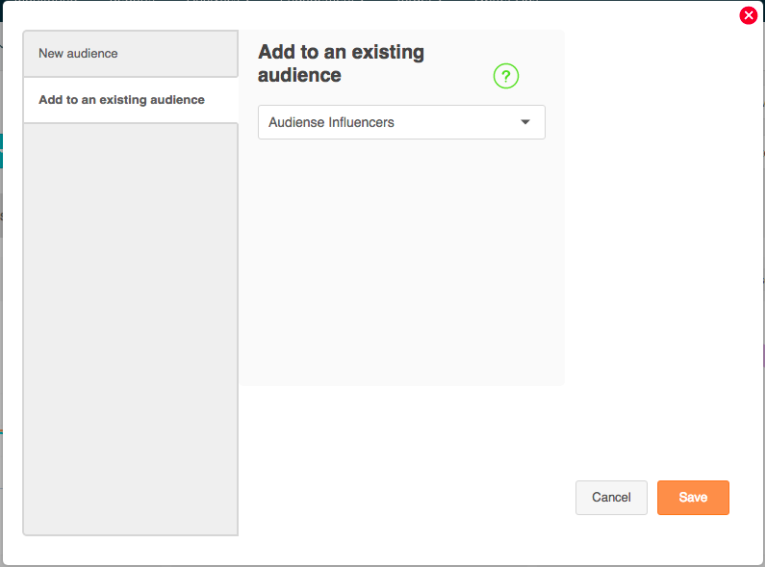 Select the audience from the drop-down menu and click save.
b) Create a new audience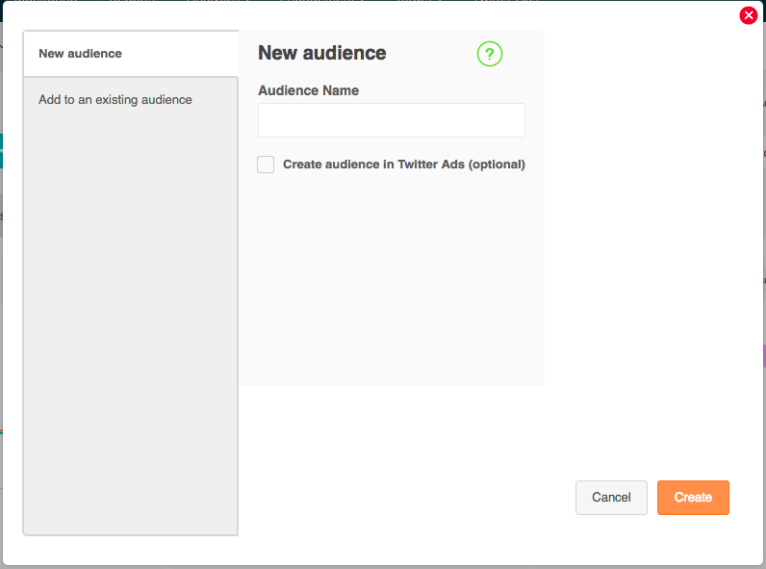 1. Give the audience a name.
2. OPTIONAL. Connect the audience with Twitter Ads. Select your account from the drop-down menu.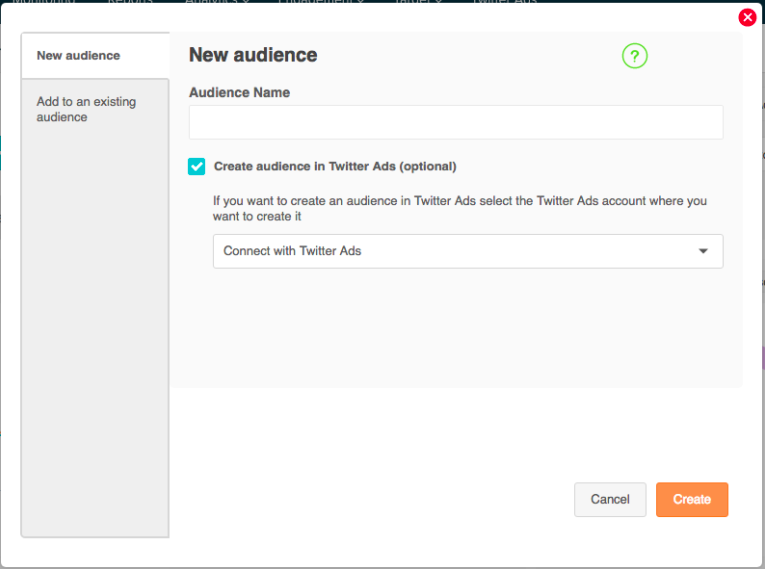 3. Click create.
4. It may take a few minutes but once it has synchronised a notification will be sent to you and your new audience will appear in the audiences section of your homepage.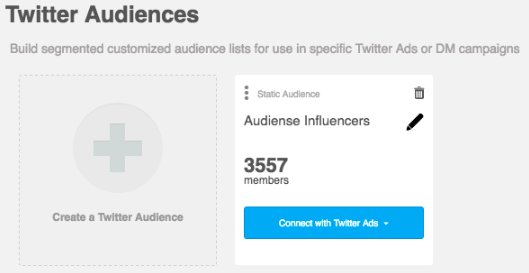 As with any other source you can click on the top half of the panel to go to the dashboard or on the bottom half to go to the community wall.
Read here details about more options available for audience panels and how to connect an audience with Twitter Ads.
2. From the Audience Manager
If the Monitoring is ongoing you can use the option of a dynamic audience to add new members of the Monitoring to your audience in real time* as they are monitored.
* Dynamic audiences are synchronised every 3 hours. New audience members will not be visible in the audience until after synchronisation.
A dynamic audience starts to add users from the moment it is created. It doesn't take into account past 'events' so if the Monitoring has finished this option is not viable. Users are only added as and when they comply first with the trigger and then with any optional criteria that you specify.
If the Monitoring is ongoing then you could add the existing users manually to an audience and then use the dynamic audience triggers to update that audience automatically with new Monitoring members.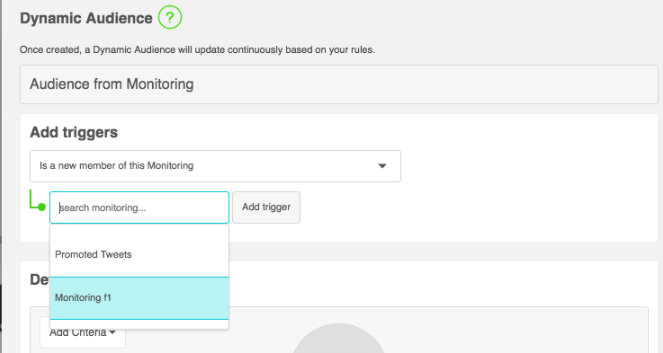 You can also use the add criteria button (as explained below) to add users to the dynamic audience.
If the Monitoring has finished one option for a static audience is to use the conversations category to define the criteria used to create the audience.
Click the add criteria drop-down menu to open the categories menu.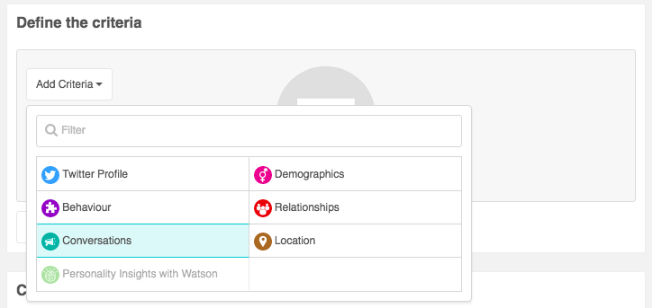 Select Conversations which has two options.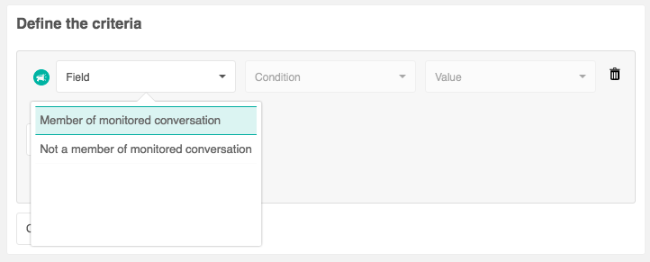 Conversations category fields are:
Member of monitored conversation
Not a member of monitored conversation
Use the drop-down menu to select a Monitoring from the Monitorings you have created to specify the users to be added to the audience.