In this section we'll look at:
- How to Create your Target Audience
- Discovering New Twitter Users to Engage With
- Who's in your Community
How to Create your Target Audience (Audience Manager)
Audiences are personalised groups of users you can analyse and target, for example in a Twitter Ad. Our Audience Manager tool allows you to quickly and easily combine filter options of user profiles, social relationships and user activities to create highly personalised audiences. The more refined your audience, the more relevant your campaign.
Creating an audience is easy. It can either be done on the main homepage or via the 'Audience' drop down menu.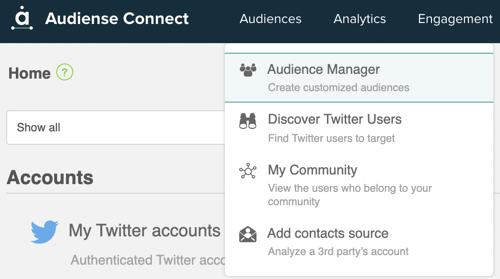 From here you have the option to create either a Static Audience, a Dynamic Audience or a Periodic Audience.
You can read about the difference in the types of audiences here.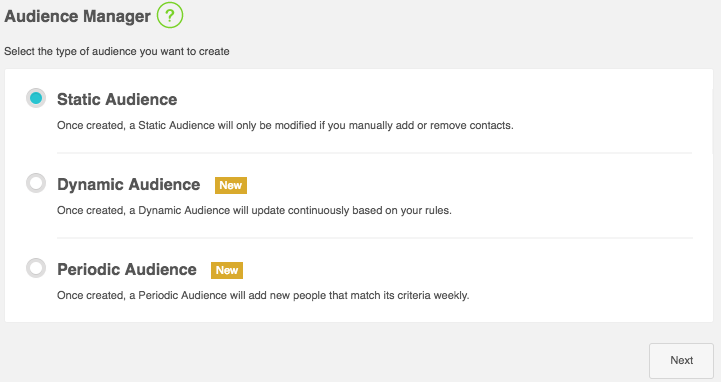 If you choose Static or Periodic Audiences, you are then able to select your maximum audience size. This is good as it can limit your social contacts usage. If you choose Dynamic Audiences, then you are able to add triggers. This is useful as you can narrow down your search to a specific audience you want to engage with, such as people who follow your account or people who mention you.

After you've done this, you are then able to define your audience by criteria such as behaviour, location and interests. For example, if you are a sports brand and wanted to search for people who are interested in sport, you could add the criteria 'Interests' and input 'Sports'.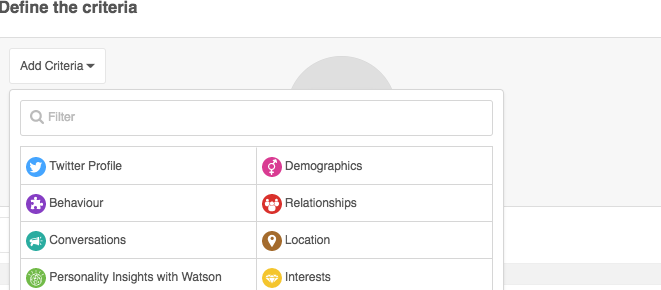 A full list of these criteria as well as more information on Audience Manager can be found here.
Discovering New Twitter Users to Engage With (Discover Twitter Users)
The Discover Twitter Users is a search tool which can be used to search all of Twitter to find users of interest to target and engage with, based on specific search criteria. This can be useful to find potential customers as well as potential influencers.
To access this, click on 'Audiences' in the top drop down menu and select 'Discover Twitter Users'.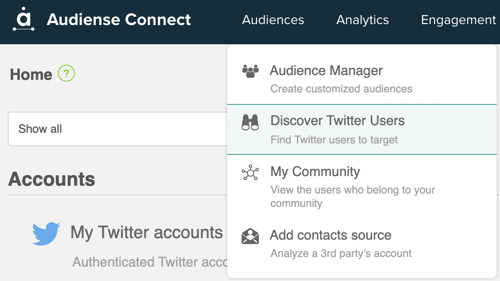 Once you've done that, a page like the one below will appear. From here, type in the keyword you want to search for as well as the location. For example, if you were a sports brand and wanted to target people who are interested in sport in the United Kingdom, simply type in 'Sports' and 'United Kingdom'.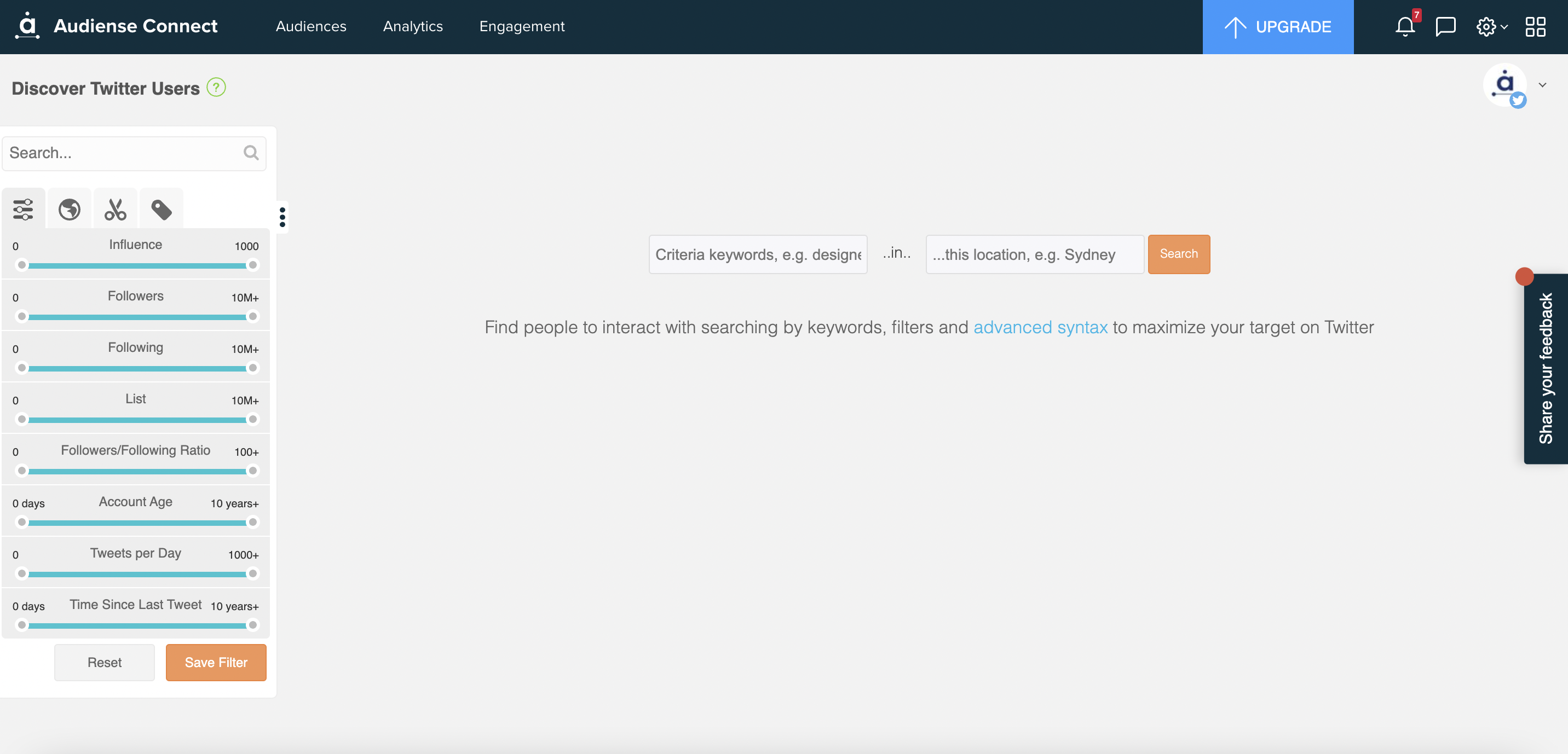 In order to get the Advanced Search, click the 3 dots on the left hand side of the screen. This allows you to narrow down your search even more. For example, if you were looking at influencers in the sports world, you could increase the bottom range on Influencers, Followers and Tweets per Day.
More information on this topic can be found here.
Who's in your Community (Community Wall)
Your Community Wall is a great tool which allows you to view specific individuals that are not only in your community, but also in a specific audience.
To get onto your Community Wall click 'My Community' in the 'Audiences' drop down menu at the top of your homepage.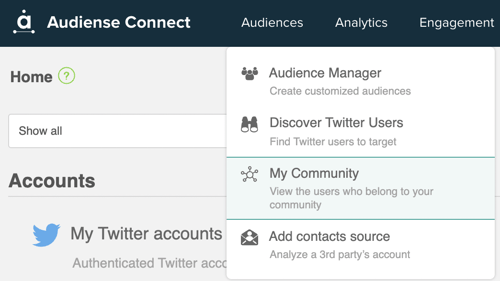 Using the 'View' button at the top, you are able to view who follows you, who's recently followed you and your influence, among other things.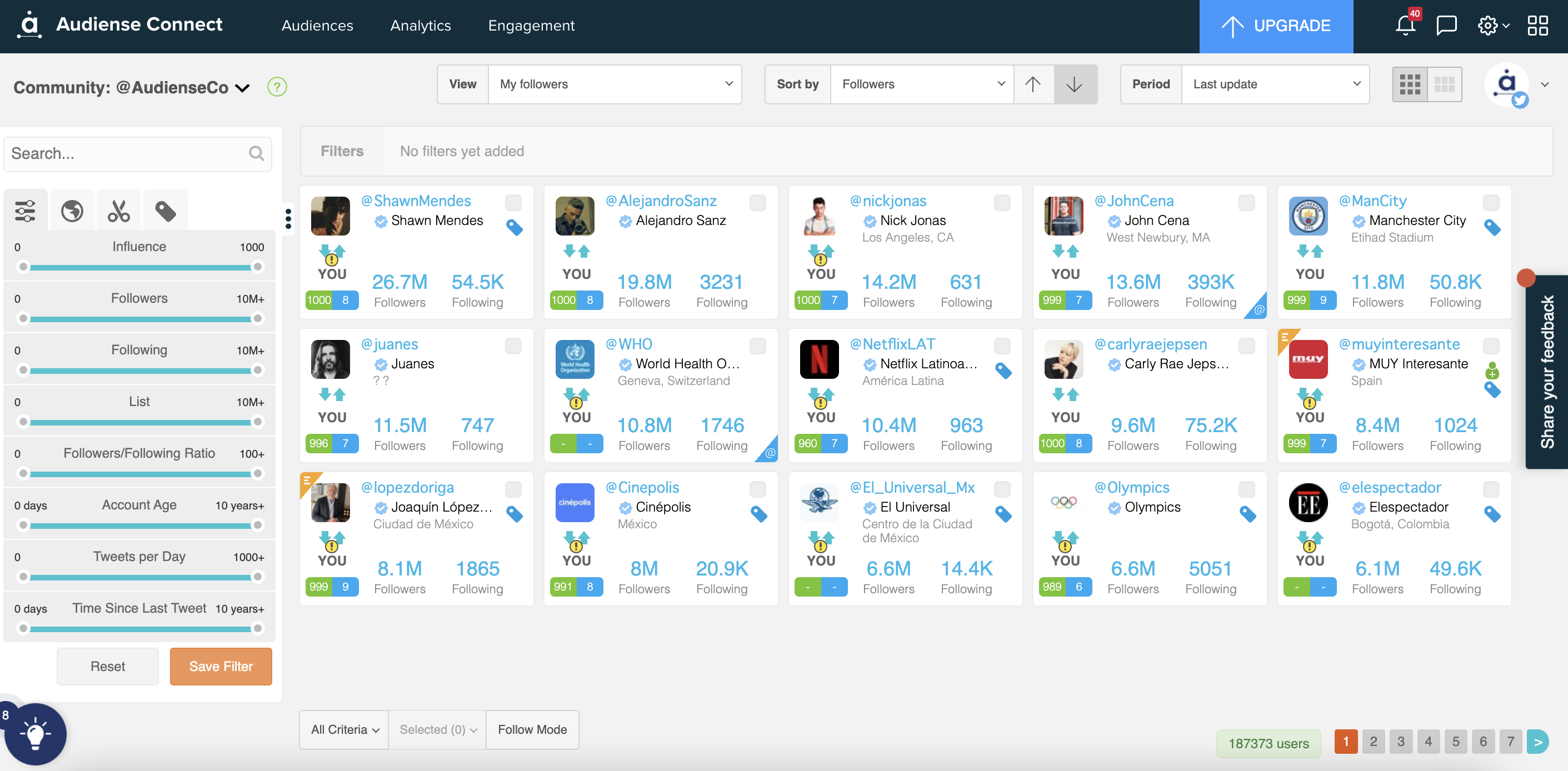 In addition to this, the advanced search bar on the side allows you to refine this audience which can be a very useful tool. Say you wanted to search for journalists that followed you, for example, so you could see who is interested in you and also has the power to write about your brand. You can search to see if the word 'Journalist' appears in their bio and see which users come up.
Click here to read a more detailed description of the Community Wall.