In this section, we'll have a look at a brief overview of the basics and what you will need to do to get started.
We'll look at:
- Navigating the Homepage
- Social Contacts
- Adding Collaborators
- Authenticating a Twitter Account
- Navigating the Dashboard
Navigating the Homepage
When you open up Audiense Connect, a dashboard such as this will appear.

There are 3 drop down menus on the top of the dashboard, 'Audiences', 'Analytics' and 'Engagement'. These are where you will go to do things such as creating reports, chatbots and monitoring.
On this main dashboard, we also have clickable panels on:
Social Contacts
Social Contacts show you the current state of your contacts usage, i.e. the people who follow you, the people you follow and all the contacts (followers and following) from any account/sources you add to an Audiense.

As well as showing you how many social contacts you have used, it also shows how many are available in your plan.
To understand more about Social Contacts, click this link.
Adding Collaborators
Collaboration Teams allow you to control, through permissions which you grant, which clients or co-workers have access to or can perform management actions on your Twitter accounts.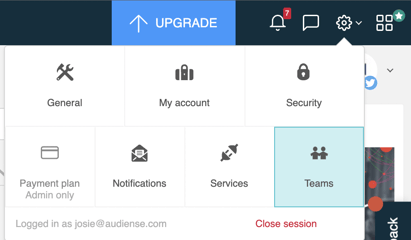 To access this, click the the settings button in the top right hand corner of your homepage and select teams. From here, you can both view your teams as well as add new ones.
Click this link to see more information on collaboration teams.
Authenticating a Twitter Account
In Audiense, accounts and sources are very important. An account is your own, or a client's, authenticated Twitter account that you manage.
To add an account, simply click on 'Add an owned account' on the main homepage and then click 'Twitter Account' under where it says Add New Account on the pop up window.
After you've done this. Another window will appear where it will tell you to fill in your Twitter account username and password. Then you simply click 'Authorize app' to authenticate your Twitter account.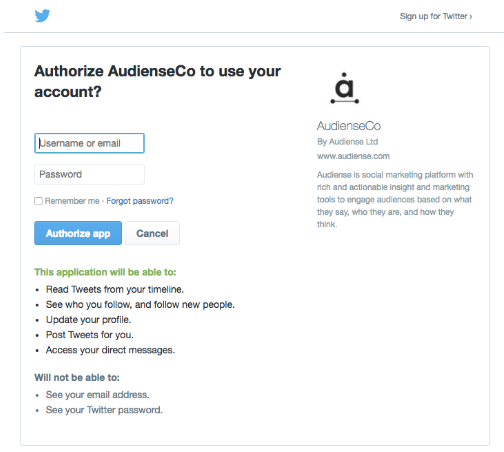 Navigating the Dashboard
On the main homepage, you are able to click on the top half of each panel to give a better insight on that account, source or audience.
For example, if I click on the @Audiense panel, I open up this dashboard.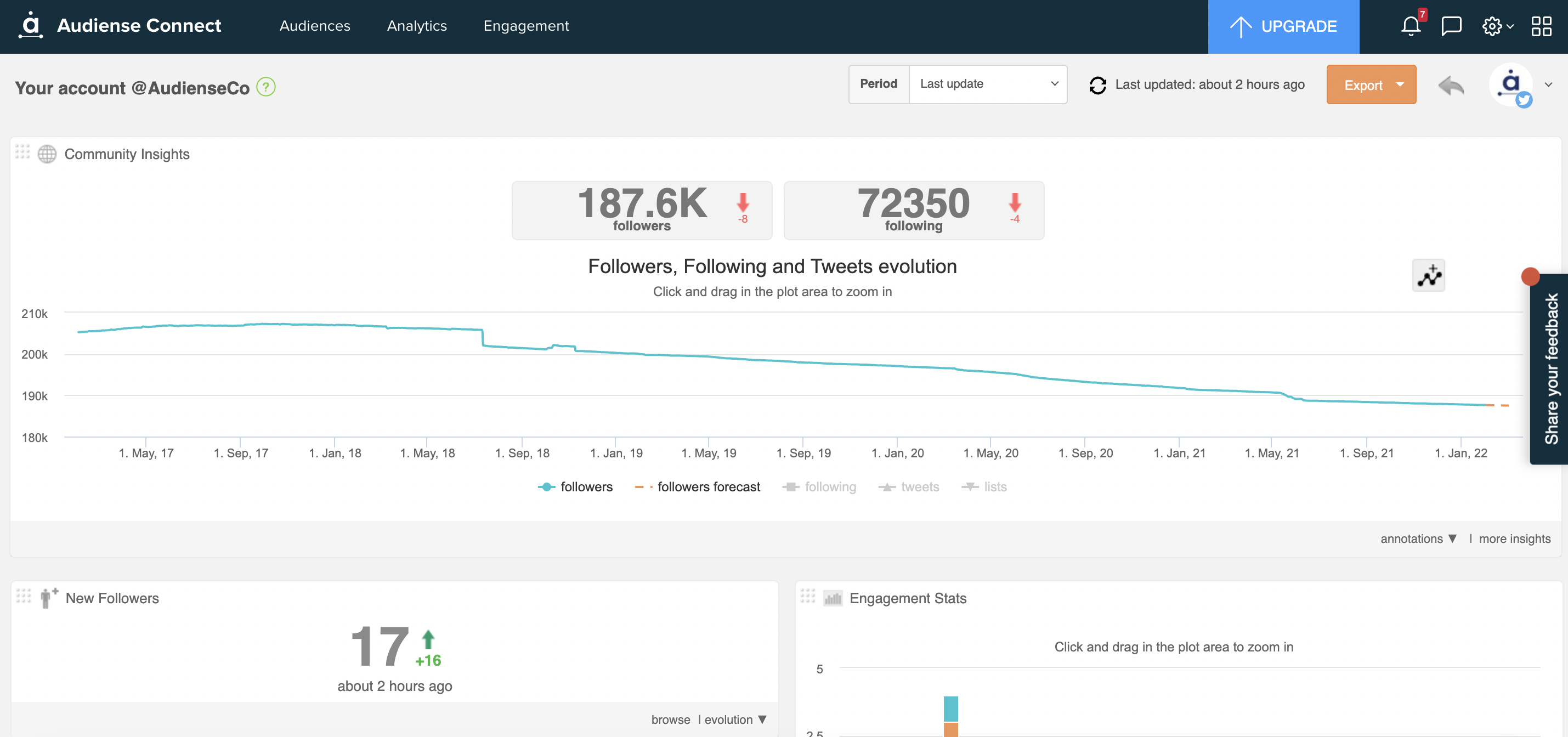 This displays widgets, the ability to export these widgets into a PDF, and the power to manually synchronise your Twitter account with Audiense among other things.
More information on the main dashboard can be found here